John McDonnell: Spring Statement 'must help ailing councils'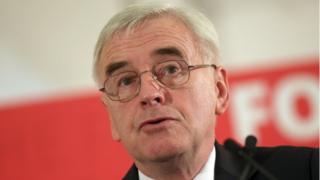 John McDonnell has urged the government to ensure that the Spring Statement offers help to local councils that are struggling financially.
Mr McDonnell said: "Tories are bizarrely saying they will pass up an opportunity this month to act."
He warned that councils in England are facing bankruptcy due to what he called the government's "failed policy of austerity".
Chancellor Philip Hammond will deliver the Spring Statement on 13 March.
A recent survey suggested that 80% of England councils feared for their finances.
In his speech in Southampton on Saturday, Mr McDonnell highlighted reported comments by Surrey County Council leader David Hodges - a Conservative - who said the authority faced "the most difficult financial crisis in our history".
Mr Hodges also reportedly urged the government not to "stand idly by while Rome burns".
Surrey County Council spans the chancellor's constituency of Runnymede & Weybridge.
John McDonnell said: "If his own Tory council leader doesn't trust his main economic policy, why should anyone else in the country?"
Mr McDonnell accused the government of trying to play down the Spring Statement by refusing to publish "any major documents" and moving the statement from its usual slot.
A Treasury spokesman outlined the plans to the Financial Times for the statement which, unlike most recent Budgets and Autumn statements, is being delivered on a Tuesday rather than taking the high profile slot straight after Prime Minister's Questions on a Wednesday.
A spokesman for the Department for Housing, Communities and Local Government said: "As part of our local government finance settlement we are delivering a real terms increase in resources to councils over the next two years, more freedom and fairness, and greater certainty to plan and secure value for money."