Corbyn urged Jon Lansman to drop general secretary bid, BBC understands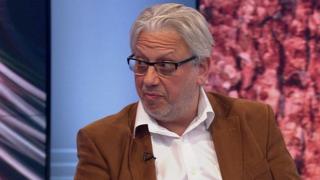 Jeremy Corbyn urged Momentum founder Jon Lansman not to stand for the vacant post of Labour's general secretary, the BBC understands.
The Labour leader failed to persuade Mr Lansman not to put himself forward in a phone call on Tuesday.
The two are allies but Mr Lansman, who recently elected to the party's NEC, is distrusted by some within the party, the BBC's Iain Watson said.
The Labour leadership favours Unite official Jennie Formby, he added.
Ian McNicol's resignation as Labour general secretary earlier this week has sparked a potential power struggle between Unite, Labour's largest financial backer, and Momentum - the campaign group which was set up to support and sustain Jeremy Corbyn's leadership,
BBC political correspondent Iain Watson said Mr Corbyn's aides fear Mr Lansman's candidacy would split the left of the party and the Labour had tried strenuously to prevent it.
It's understood Mr Lansman rejects the idea that his candidacy would split the left.
The complicated voting procedure which Labour's ruling National Executive Committee uses to chose the general secretary would allow the left - which has a majority on the body - to unite behind the stronger of the two candidates if there were a challenge from the right.
During a conference call on Tuesday, Mr Lansman is understood to have been urged to make way by Mr Corbyn and shadow chancellor John McDonnell.
Mr Lansman suggested Laura Parker, who previously worked for Mr Corbyn, might stand instead of him but that Ms Parker was unwilling to declare due to the leadership's support for Ms Formby, says Iain Watson.
Ms Formby is a close personal and political ally of Unite's leader Len McCluskey, a key power broker within the Labour movement, and the union has been arguing that the post should go to a woman.
Mr McDonnell has publicly endorsed Ms Formby for the powerful role, saying she was a "fantastic" organiser and campaigner.
In a statement on Thursday, Mr Lansman said his candidacy would "open up the contest" and, if he won, he would prioritise the interests of party members, who he said should be "trusted, listened to and empowered".
But he also encouraged other grassroots activists, particularly women, to step forward - saying the process of democratising the party demanded the widest range of candidates.
The party's National Executive Committee, on which Mr Corbyn's supporters hold the balance of power, is expected to choose Mr McNicol's successor later this month.
The general secretary is responsible for the day-to-day running and organisation of the party, including campaign and media strategies, and chairs a number of influential committees.
Mr McNicol, a GMB union official, has held the post since 2011.