Secret government order allowing MI5 law-breaking revealed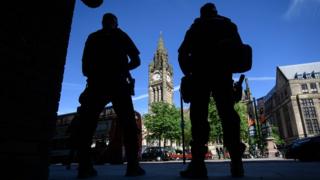 Previously secret instructions issued by ministers confirm MI5 agents are authorised to engage in law-breaking, human rights campaigners have claimed.
The intelligence watchdog has been told to keep under review guidance on use of agents "who participate in criminality" and in what cases it can be permitted.
The ministerial order was made public following a long-running legal battle.
Reprieve called for the guidance to be published, warning authorised crime was the "most intrusive power" possible.
Campaigners welcomed the publication of a ministerial "direction" to the Investigatory Powers Commissioner about the Security Service, commonly known as MI5, which they said followed a seven-month legal fight.
But they called for full disclosure of the rules governing the activities of MI5 agents, saying the public deserved to know about illegal activity being undertaken in the name of national security.
The order has remained secret since it was first written into law in 2014.
In a short written statement to Parliament, No 10 said it was instructing Lord Justice Fulford, the Investigatory Powers Commissioner (IPC), to "keep under review the application of the security service guidelines on the use of agents who participate in criminality and the authorisations issued in accordance with them".
'Greater good'
A 2016 report by the Intelligence Services Commissioner, a post which has since been merged into the IPC, suggested there may be occasions where agents engage in criminal activity in order to gather necessary intelligence "for example membership of a proscribed organisation or handling stolen goods".
It said that although such activity could never be made lawful, it may be justified for operational reasons and in the "greater good" - although it recommended that MI5 should have to meet a public interest test.
Although MI5 has never openly admitted infiltrating extremist groups, its director has said the ability of agents to "work close" to potential offenders has helped to prevent terrorist attacks.
Reprieve said it was the first time ministers had acknowledged the existence of the guidance but they needed to publish it in full immediately.
"We are a long way from having transparency," its director Maya Foa said. "The public and Parliament are still being denied the guidance that says when British spies can commit criminal offences and how far they can go."
The Investigatory Powers Commissioner welcomed the government's decision to "make public my oversight of this sensitive area of work".