Labour extends Ken Livingstone suspension over anti-Semitism claims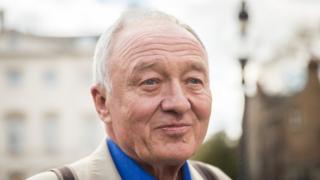 Ken Livingstone's suspension from Labour over anti-Semitism claims has been extended pending the outcome of an internal investigation.
The former London mayor's suspension had been due to expire on 27 April.
But Labour's outgoing general secretary, Iain McNicol, has signed off on an extended extension.
Mr Livingstone is facing an internal investigation into his conduct after refusing to apologise for statements he made about Adolf Hitler and Zionism.
Mr McNicol announced he was standing down as Labour's general secretary on Friday after a "tumultuous seven years".
Labour sources denied claims by the Huffington Post, which broke the story, the decision to extend Mr Livingstone's suspension was Mr McNicol's last official act.
Disciplinary panel
They said the decision had been taken by National Executive Committee members and although the letter informing Mr Livingstone of the decision had been sent in Mr McNicol's name it had not been the result of a unilateral decision taken by the outgoing general secretary.
Mr Livingstone was suspended for a year in April 2016 over his claim that Adolf Hitler had supported Zionism in the 1930s.
He was suspended for a further 12 months in April last year after a Labour disciplinary panel upheld three charges of breaching party rules, prompting Jeremy Corbyn to order a fresh internal inquiry into his conduct.
This has reportedly yet to get under way, with the deadline approaching for Mr Livingstone to be re-admitted to the party.
Labour sources say the investigation will go before the party's disputes panel, which may refer Mr Livingstone to the party's National Constitutional Committee for possible disciplinary action or decide no further action is necessary.
A Labour spokeswoman confirmed: "Ken Livingstone has been administratively suspended from the Labour Party, pending the outcome of an internal party investigation.
"That suspension starts on the date that his membership suspension applied by the National Constitutional Committee ends on 27 April 2018."
'Long overdue'
Some Labour MPs and Jewish groups have criticised the decision not to expel Mr Livingstone, but the former Labour MP said he had been "suspended for stating the truth".
Labour MP Wes Streeting, who chairs the All Party Parliamentary Group on British Jews, told the Huffington Post the decision to extend Mr Livingstone's suspension was "long overdue".
"Almost a year has passed since Jeremy Corbyn announced that Mr Livingstone's conduct would be subject to further investigation with seemingly little action by the NEC."
He said Mr Livingstone should be expelled for his "gratuitously offensive remarks" and "his lack of remorse" - and urged the NEC to take tougher action against "anti-Semites and their apologists infesting the Labour Party".
The battle to replace Mr McNicol as general secretary has, meanwhile, intensified with the founder of Momentum - the grassroots movement supporting Jeremy Corbyn - throwing his hat into the ring.
In a statement on Twitter, Jon Lansman said he was applying to "open up the contest" and ensure there was a wide range of candidates.
Mr Lansman, a key ally of the Labour leader, said if elected he would "stay tuned to the desires" of the party's members and trade union affiliates, "work hard to strengthen Labour's trade union link" and make sure the party "really delivered for the many not the few".
An official with the Unite union, Jennie Formby, has already announced that she is standing and is reported to be favoured by Mr Corbyn.
Analysis by BBC Political Correspondent Iain Watson
Jon Lansman set up Momentum to support and sustain Jeremy Corbyn's leadership, but the Labour leader isn't returning the favour - he would prefer Jennie Formby to be the next general secretary.
She's a close personal and political ally of Unite's leader Len McCluskey and the union has been arguing that the post should go to a woman.
Mr Corbyn's aides feared Mr Lansman's candidacy would split the left of the party and tried strenuously to prevent it.
So Jon Lansman then suggested that a woman candidate might stand in his place.
He had in mind Laura Parker - a Momentum official who had previously worked for Mr Corbyn.
The leadership were firm that Jennie Formby was their choice and Ms Parker didn't throw her hat in the ring.
Today Mr Lansman declared his own candidacy - despite a further direct plea from Jeremy Corbyn to abandon the plan.
Privately, the Momentum leader has complained about "a stitch-up". Publicly, he says he wants the process of appointing the party's top official opened up.
Labour's ruling national executive will make its choice later this month.