Labour 'won't accept' more money from Max Mosley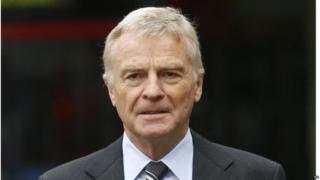 Labour says it will not accept any more money from privacy campaigner Max Mosley amid a row over a racist by-election leaflet he published in 1961.
The leaflet, backing a candidate for his father Sir Oswald Mosley's Union Movement, said: "Coloured immigration threatens your children's health."
Mr Mosley says he doesn't recall the leaflet and he is not a racist.
But Labour said the ex-Formula 1 boss's donations to deputy leader Tom Watson's office would come to an end.
Mr Mosley has given about £500,000 to fund the running of Mr Watson's office as well as policy research over the past few years.
As well as being deputy leader, Mr Watson is also shadow culture secretary and in charge of the party's policy on press regulation.
Speaking on Tuesday, Mr Mosley suggested he would continue to financially support Mr Watson, who he described as "one of the most honest and courageous politicians we have got".
Dossier compiled
But a Labour source suggested the funding arrangement had come to an end.
"The Labour Party has moved away from large-scale donations from wealthy individuals," the source said.
"I don't believe that there will be any more payments from Max Mosley to the Labour Party or Tom Watson. The last payments were made last year."
Conservative Party deputy chairman James Cleverly told London's Evening Standard: "Tom Watson should seriously consider distancing himself from Mr Mosley and returning the money."
The Metropolitan Police says it will "assess" a dossier on Mr Mosley put together by the Daily Mail, which has suggested the leaflet, which it discovered in archives in Manchester, calls into question evidence he gave to a High Court trial in 2008.
A Met spokeswoman said: "This afternoon the CPS forwarded information from the Daily Mail to the Metropolitan Police.
"An assessment will be carried out."
The former motor racing boss was presented with a photocopy of the leaflet, for Union Movement candidate Walter Hesketh in the 1961 Moss Side by-election, during an interview with Channel 4 News.
The leaflet, which says it was "published by Max Mosley", includes the warning: "Protect your health. There is no medical check on immigration. Tuberculosis, VD [sexually transmitted disease] and other terrible diseases like leprosy are on the increase. Coloured immigration threatens your children's health."
Asked about the final line, Mr Mosley told Channel 4 News: "I think that probably is racist, I will concede that completely."
But he said he had "no reason to apologise to anyone" since the sentiments expressed in the leaflet did "not reflect my view then or now".
The Daily Mail said it raised questions over Mr Mosley's evidence to a High Court trial, in which he successfully sued the News of the World over reports that a sado-masochistic sex session he had had with five prostitutes was "Nazi-themed".
Press regulation
The Sun, which featured allegations on its front page, said its parent company News UK, which used to publish the News of the World, was awaiting the result of the police assessment.
During the 2008 trial, Mr Mosley denied any knowledge of the leaflet. Speaking on Tuesday, he said "obviously" he "would not have done that if I knew of its existence".
Mr Mosley has campaigned for tighter press regulation since the trial and has donated funds to press regulator Impress.
He is also attempting to use data protection laws to delete references to what he calls this "private party" and what he says are inaccurate references about his relationship to Impress.
Mr Watson has insisted his views on the need for tougher press regulation were "well known" and had not changed as a result of his association with Mr Mosley, who he has described in the past as a friend.
Speaking in the Commons after the government announced it would not hold the second part of the Leveson Inquiry into press standards, he said: "If I thought for one moment he held those views, contained in that leaflet of 57 years ago, I would not have given him the time of day.
"He is a man, though, who in the face of great family tragedy and overwhelming media intimidation, chose to use his limited resources to support the weak against the strong."