Labour activists urge Corbyn to take harassment action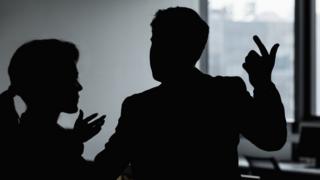 Labour activists have submitted a dossier to Jeremy Corbyn detailing claims of harassment, intimidation and abuse "at all levels" in the party.
The 43 anonymised cases in the LabourToo report cover women describing themselves as party staff, activists, politicians and candidates.
They complain of behaviour ranging from inappropriate touching to rape.
It comes as MPs prepare to debate proposals for a new complaints and grievance system for Parliament.
The new procedures were drawn up by Leader of the Commons Andrea Leadsom in the wake of a rash of complaints of inappropriate behaviour last autumn, which led to the resignations of two Conservative cabinet ministers and the suspension of a number of both Tory and Labour MPs.
The LabourToo spokesperson said the level of inexcusable behaviour in the party which had emerged in recent months was "genuinely distressing".
"Sexual harassment, abuse and discrimination is not restricted to the corridors of Westminster, but is taking place at all levels within the Labour Party," they said.
"We need a system that is not open to political bias or interference from the friends and allies of the usually more powerful men whose behaviour causes the problem in the first place."
LabourToo is an internal Labour Party pressure group seeking to highlight and combat sexual assaults and discrimination within the party.
It is calling for internal action in the following areas:
A fully independent complaints process, including panels made up of people with no clear link to party
Compulsory training for all party staff, elected Labour representatives and key elected officials
A comprehensive set of policies covering bullying and harassment, sexual harassment, domestic abuse, abuse, assault and sexual assault
A confidentiality policy which requires members not to share confidential information they become aware of as part of the complaints process.
Mandatory DBS checks for those seeking selection as candidates, both at a national and a local level.
A separate report published on Wednesday found that a quarter of MPs - including half of women MPs - said they were personally aware of sexual harassment or abuse in Parliament.