UK expresses 'deep concern' to Russia over Eastern Ghouta attacks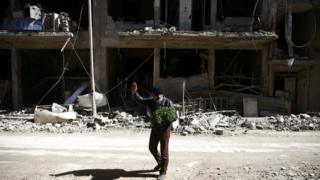 The UK has urged Russia to put pressure on the Syrian regime to observe a UN-backed ceasefire in Eastern Ghouta and allow humanitarian access to the area.
The Foreign Office summoned Russia's ambassador to express its "deep concern" over the siege of the city and the reported use of chemical weapons.
It said all sides must strive for a political solution to the conflict.
Boris Johnson has said force may be needed if there was "incontrovertible" evidence of use of chemical weapons.
Speaking to the BBC earlier on Tuesday, the foreign secretary said he believed the use of illegal weapons should not go unpunished.
Fighting continued in rebel-held Eastern Ghouta, an enclave near Damascus, despite the first daily five-hour "pause" ordered by the government's ally Russia.
Activists said there were government air and artillery strikes, while Russia said rebels had shelled a "humanitarian corridor" meant to let civilians leave.
More than 500 people have been killed since last week in Eastern Ghouta, where activists on Sunday reported a suspected poison gas attack.
After meeting Russian ambassador Alexander Yakovenko, Foreign Office minister Alan Duncan said brief humanitarian pauses were "no substitute for a sustained ceasefire".
The Foreign Office said Mr Duncan had urged Moscow to use its influence to ensure the Syrian regime adheres to the ceasefire and allows "rapid, unimpeded and sustained humanitarian access and non-conditional medical evacuations which are urgently needed across Syria".
Buses waiting
Earlier, the foreign secretary said while the West could not intervene to change the odds in favour of the rebels fighting Syrian President Bashar Assad's regime, he believed the use of illegal weapons had to be addressed.
"It's very important to recognise there's no military solution that we in the West can now impose," he told BBC Radio 4's Today programme.
"The people listening to us in Eastern Ghouta cannot get the idea that the West is going to intervene to change the odds dramatically in their favour.
"But what I think we need to ask ourselves as a country - and I think what we in the West need to ask ourselves - is can we allow the use of chemical weapons, the use of these illegal weapons to go unreprieved, unchecked, unpunished? And I don't think we can."
He stressed: "If there is incontrovertible evidence of the use of chemical weapons, verified by the Office of the Prevention of Chemical Weapons - if we know that it's happened and we can demonstrate it, and if there is a proposal for action where the UK could be useful, then I think we should seriously consider it."
On Saturday, the United Nations Security Council passed a resolution calling for a 30-day ceasefire, but it did not set a specific start date.
Russia said the five-hour pause in bombardment would run from 09:00 until 14:00 local time (07:00-12:00 GMT) daily.
The Syrian Red Crescent would help set up the humanitarian corridor and residents would be informed about how to leave via leaflets, text messages and videos, it added.