Political heroes: Cable on Roy Jenkins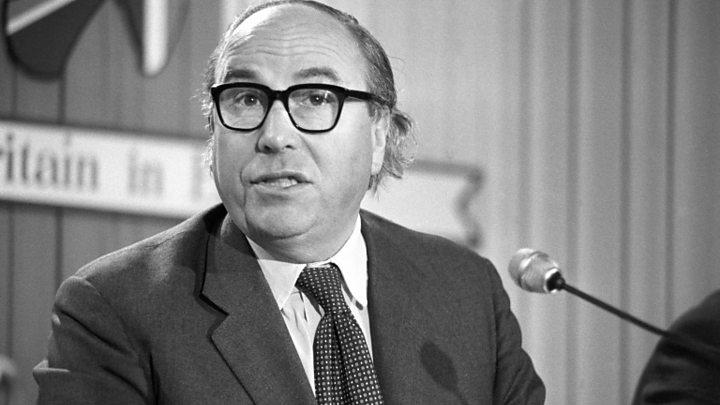 For the current leader of the Liberal Democrats his choice of political hero was none too challenging.
In his words, Lord Jenkins "was one of the great figures in the Liberal and Social Democratic tradition in British politics. A great reforming home secretary, a much-admired chancellor, a great European and somebody whose values and life that in many ways I have followed".
Roy Harris Jenkins was born in 1920 and was the product of the mining valleys of south Wales. A grammar school boy, who went on to win a first at Oxford.
He was immersed in politics from an early age, following in his father's footsteps and becoming a Labour MP in 1948.
As home secretary in the Labour government of the mid-1960s, Roy Jenkins oversaw some of the great social reforms of the 20th Century, including abortion rights, divorce, and the decriminalisation of homosexual acts.
As a student, the young Vince Cable felt a great admiration for what Jenkins had achieved,
"This was the era of Mary Whitehouse, an attempt to restore old fashioned values ... there was this enormous sort of mood, particularly amongst young people to sweep away all the rather old fashioned values which seemed to exist at that time ... and he, more than anybody else, lifted the barriers.
"It changed the face of the country, it modernised it, in a way that we would regard as perfectly normal today".
His experiences during World War II, first in the Royal Artillery and then as a code breaker at Bletchley Park, made him a passionate European.
He would defy many in his party and campaign for membership in the 1975 referendum, leaving UK politics to become president of the European Commission two years later.
What would Lord Jenkins make of Brexit Britain?
"People of his generation were people who had fought in the war, who saw the rebuilding of Europe as something that was a political objective to end conflict in Europe ... I think he would be a very, very sad heartbroken man, if he saw what had happened today".
'Bon viveur'
Lord Jenkins is often described as a "bon viveur" and it is in his celebrated love of the "good life" that Sir Vince sees the greatest difference in their characters,
"My lifestyle is a little bit different, I'm probably a bit more puritanical, a bit more frugal. He liked the big long lunch, which became, I think, rather celebrated. A great lover of high class wines - I never really got into that."
But he did greatly respect Lord Jenkins's approach to politics and his relationships across the political divide, including leading Conservative politicians and well-known "lefties" like Tony Benn.
"I did respect that in him, he had a good relationships right across the spectrum. Those were days when MPs used to write each other private letters of congratulation and condolence, and there was a kind of civilised environment."
Returning from Europe some years later, Roy Jenkins felt a growing alienation from the Labour Party as it swung to the left under the leadership of Michael Foot.
In 1981, he and the other prominent "moderates" known as the Gang of Four would leave to set up the Social Democratic Party. A certain Vince Cable was among the Labour converts,
"What was most difficult, I think, for him and also for many of us was the break with many of the other so-called "moderates" in the Labour Party.
"One of his closest associates, Anthony Crosland, who had actually been his lover when they were at university together, and Roy Hattersley and people of that kind ... it was bitter for many years."
'Better politics'
The SDP would later merge with the Liberals, to form the Liberal Democrats, and while many in the Labour movement believed Lord Jenkins had betrayed his party and his roots, Sir Vince thinks, on balance, it was a decision based on principle, for the national good.
"Historians will argue for many, many years as to whether the breakaway was justified. I think, actually, the Labour Party modernisation which started under Neil Kinnock through John Smith to Tony Blair probably wouldn't have happened, if it hadn't been for the SDP breakaway.
"And I think British politics is much the better for having had the Lib Dems, of which he was one of the parents."
In his later years as leader of the Liberal Democrats in the House of Lords, Roy Jenkins would advise Tony Blair as the New Labour project took form.
As chancellor of Oxford University for more than 16 years, he would continue to write the acclaimed political biographies which he'd produced throughout his life.
Married to wife Jennifer for nearly six decades, he died in 2003, at the age of 82.
"I think he was one of the great statesmen of the post war era," Sir Vince said.
"You can read his legacy in his books. I think he fell short of what he ultimately wanted to achieve, he never became prime minister, his vision of the SDP Liberal Alliance never led to government as he had hoped, but he was a genuinely great figure in post-war British politics."