McDonnell: UK economy suffering 'chronic illness'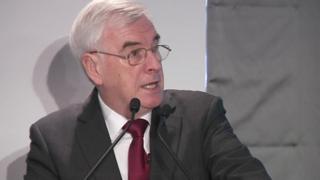 Working people have suffered the worst decade for living standards in generations, John McDonnell has said.
He said that unlike "the short, sharp shock" of 2008, the UK was experiencing "a long-term, chronic illness".
The shadow chancellor said the government's "lack of direction and political uncertainty" since the EU vote had "exacerbated these issues".
Theresa May says under her government record numbers of people are in work, and Labour "would wreck the economy".
According to the Office for National Statistics, average wages in real terms - taking into account inflation making things cost more - are at the same level as they were in 2006.
Mr McDonnell's speech follows a report produced by the Resolution Foundation think tank that suggested families on the lower end of the pay spectrum were set for three years of stagnating living standards.
Mr McDonnell said: "For 60 years, from the Second World War to the financial crisis, rising GDP [gross domestic product] meant broadly rising living standards.
"When GDP rose, unemployment came down and wages went up. That link has now been seemingly broken."
Cold War
Mr McDonnell said: "Seven years of Tory austerity have dragged our public services to an existential crisis - the figures for local government are genuinely shocking."
He urged Chancellor Philip Hammond to use his Spring Statement next month to bring forward the funding needed "to place our local authorities on to a sustainable financial footing, for at least the next year".
A Labour government would restore funding to public services, with a £21bn pledge over the Parliament to address cuts made to the Work and Pensions budget, including £3bn a year for universal credit, he said.
"We will do so through making sure a fair rate of taxation is paid by those wealthy people and businesses that can afford it," Mr McDonnell said.
"We will also do so by making sure corporations and the wealthy pay their taxes."
He said falling productivity was a direct result of a failure to invest. And cheap, insecure work had replaced investment in the capital, skills and technology "that can create decent jobs for the future".
In a question-and-answer session following his speech, Mr McDonnell was asked about newspaper claims about Cold War meetings with spies.
He said he had been a council officer in Camden at the time. "I promise you I was not selling secrets to the KGB," he said.