Theresa May urges opposition peers to retire to cut size of Lords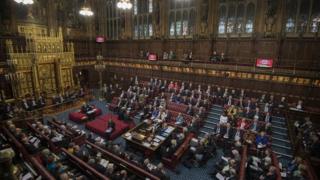 Theresa May is urging Labour and the Liberal Democrats to encourage more of their peers to retire to cut the size of the House of Lords.
The prime minister said the Tories had a better record of "embracing retirement at the appropriate time".
She also vowed to end the "automatic entitlement" to a peerage for holders of high public office.
Labour said the PM was just putting off Lords reform "to some uncertain time in the future" with her comments.
The House of Lords - with 792 members - is the world's second largest Parliamentary chamber.
Mrs May was responding to calls by the cross-party Lord Speaker's committee for a "two out, one in" system to cut the number of peers by a quarter to 600 - 50 fewer than the House of Commons.
The PM committed to reducing the size of the chamber but said a call for a maximum term of 15 years to cap numbers requires "further careful thought and wider engagement", including with MPs.
In a letter to the Lord Speaker Lord Fowler, she said she would be appointing a "small list" of new Tory peers "in due course" but vowed to continue acting with "restraint" when it came to political appointees.
And she suggested senior police officers, judges and other public office holders should no longer automatically expect a peerage, although this would not apply to Bishops, who are selected under a different process.
In his cross-party report, committee chairman Lord Burns set a target of 139 departures by 2022 - and Mrs May said this could only be achieved if all parties encouraged their peers to retire earlier.
The average retirement age for peers, since 2015, is 83, according to a House of Lords Library briefing.
Lord Fowler welcomed the PM's "statement of intent" to cut the size of the Lords, saying: "She has challenged the House and its members to deliver their part in reducing numbers.
"The ability to reduce the size of the House is now within our own control. I intend to work with the political leaders in the House to agree how best to take this forward."
But a Labour Party spokesman said: "With this Conservative government everything seems to be put off to some uncertain time in the future - Lords reform included.
"As well as ending the hereditary principle for good, we ultimately want to see an elected second chamber but Theresa May has ducked giving a proper response."
Darren Hughes, chief executive of the Electoral Reform Society, which campaigns for a "slimmed-down, fairly-elected chamber," said the PM should should "lead by example and suspend all new appointments until there are real plans for reform".
---
Lords stats
The Conservatives are the largest party in the Lords with 250 peers (31%), followed by Labour with 199 (25%) and the Liberal Democrats 100 (13%).
There are 184 crossbenchers (23%), 24 Bishops and 41 others
As of 11 December 2017, the oldest member was 98 - and two members shared the youngest age of 39
The mean age was 69
There were 216 female members (26%), an increase from 24% in June 2015
Source: House of Lords Library briefing
---
Since entering Downing Street, Mrs May has appointed eight peers, including three political appointments as ministers.
She also appointed five "distinguished public servants" including the Lord Chief Justice, a former Bishop of London, a former Metropolitan Police commissioner, a former chief of defence staff and a former private secretary to the Queen.
Labour leader Jeremy Corbyn has appointed just one peer, former Liberty director Baroness Chakrabarti, in that time. The Lib Dems have not appointed any new peers.
Across all parties, 24 peers have been created and two hereditary peers elected, while 28 have retired, and 16 have died - and two have been removed for non-attendance.
It has left the overall size of the Lords down by 20 members under Mrs May's premiership - and her official spokesman said she "intends for that trend to continue".
At the moment, peers can serve for life once appointed, although rules introduced in 2014 making it easier for them to retire, has increased the turnover in the House.
Since July 2016, 11 Conservatives have retired from the Lords, compared with four Labour members, three Liberal Democrats, one DUP member and nine cross-benchers, who have no party allegiance.
Under Lord Burns' formula, 129 Conservative peers would be expected to depart by 2027 while Labour and the Lib Dems would see 102 and 50 departures respectively and 93 crossbenchers would also leave.
Britain is thought to be the only democracy in the world with a second chamber larger than its first.
The only assembly which is bigger is the Chinese National People's Congress with 2,924 members but that does not have a second chamber. The European Parliament, with 751, has slightly fewer members than the House of Lords.