No shared leave for shared leave minister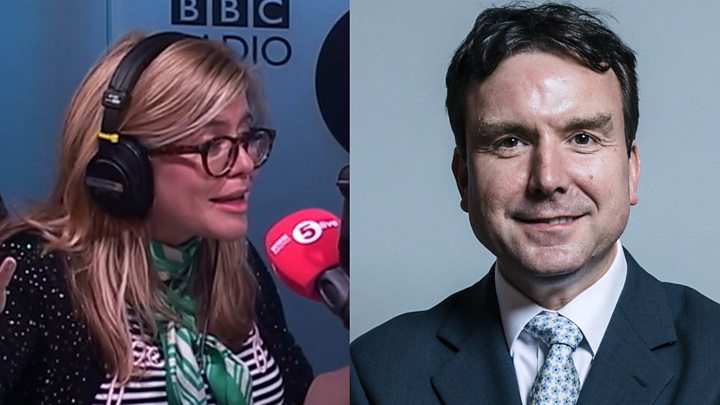 The government minister in charge of persuading more couples to share their parental leave says he is not allowed to take up the scheme.
Business Minister Andrew Griffiths, who is due to become a dad in April, said that as an "office holder rather than an employee" he was ineligible.
He was speaking on BBC Radio 5 live's Emma Barnett Show as he launched a new campaign to boost take-up.
This "could be as low as 2%", the business department says.
Its £1.5m "share the joy" campaign aims to better inform parents about the policy.
Mr Griffiths said he planned to be the first minister responsible for parental leave to take their full two weeks of paternity leave - but was unable to take up the policy he is championing.
"Unfortunately, as a minister, I'm not allowed," he said. "Ministers are not allowed to take shared parental leave."
He added: "The reality is I've discussed with my wife about whether she'd like to take shared parental leave, even if it was available to me - each family has to make the decision that suits them."
Quizzed on the rules affecting ministers, he promised to "take it away and think about it".
What is shared parental leave?
Shared parental leave (SPL) was introduced in April 2015
It allows parents to share 50 weeks of leave - with 37 paid - after they have a baby
Parents can take time off separately or can be at home together for up to six months
SPL is paid at £140.98 per week or 90% of your average earnings, whichever is lower
Shared parental leave explained
As "office holders" rather than employees, usual rules of parental leave do not apply to MPs, the House of Commons said, with arrangements made privately between members and their parties. It said specific arrangements affecting ministers would be the responsibility of the Cabinet Office.
Several ministers have taken maternity leave - Labour's Yvette Cooper became the first to do so in 2001.
MPs recently voted in favour of allowing members who have a baby to vote by proxy, with Parliament's procedure committee now considering how that could work in practice.