Don't just muddle through Brexit, ex-minister warns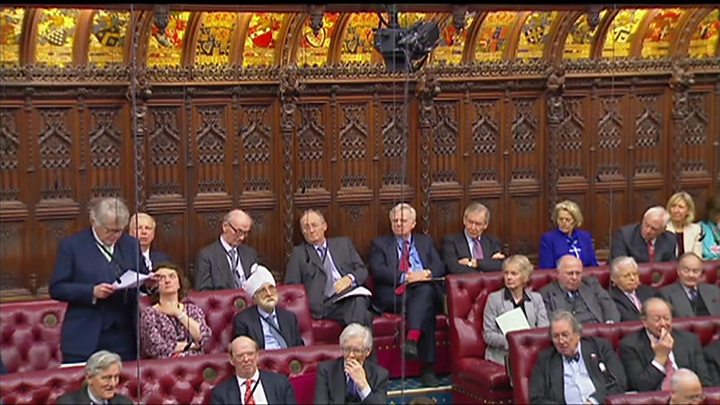 Britain cannot "just muddle through" Brexit, ex-minister Lord Bridges has said, warning that "keeping every option open is no longer an option".
The Tory peer said ministers appeared unsure of what they wanted after leaving and the void was being filled by "conflicting, confusing voices".
His warning came as a packed House of Lords started debating the government's crucial EU (Withdrawal) bill.
It is aimed at ensuring a smooth transition when Brexit happens.
The bill, which will also end the supremacy of EU law in the UK, has already cleared the Commons, but peers could now try to change it with nearly 190 of them requesting a say.
Some critics are angry about the powers it gives ministers to amend legislation without consulting Parliament.
Opening the two-day debate, Lords Leader Baroness Evans said the measures were "vital to a smooth and orderly exit from the EU".
She said the government understood concerns about ministers using "delegated powers" to make changes to some laws, but said this gave the government the "discretion that this unique situation calls for".
'No clear answers'
Failing to "correct deficiencies" could cause disruption to the City of London, she said, adding that any major changes would be done using primary legislation.
But Lord Bridges, who served in the Brexit department for about a year before leaving this summer, suggested the bill did not come close to answering the more fundamental question of what kind of country ministers envisaged building after Brexit.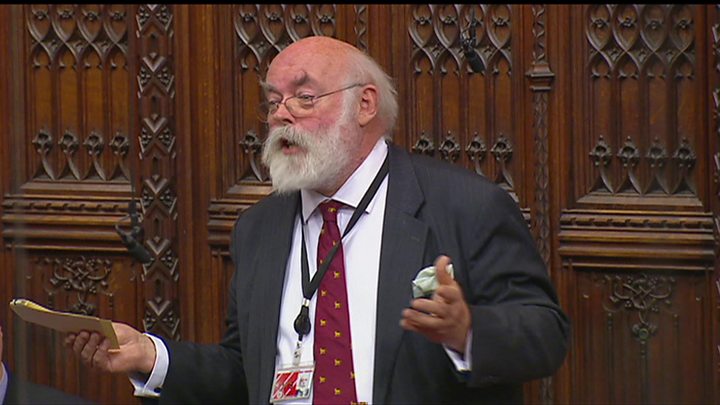 "Only once we have answered this question can we properly and fully answer the second question - what agreement do we want to strike with the European Union?
"What do we value more, parliamentary sovereignty and control, or market access and trade?
"Four months on, and there are still no clear answers to these basic, critical questions. All we hear, day after day, are conflicting, confusing voices."
Urging Theresa May "not to indulge that very British habit of just muddling through", he suggested the time was fast approaching when the prime minister would have to decide on a "clear destination" for Britain.
"As we face the biggest challenge this country has faced since the Second World War, keeping every option open is no longer an option."
'Nitty gritty'
In a series of impassioned contributions, former Tory cabinet minister and EU commissioner Lord Patten warned Brexit risked "devouring his party" and said while he accepted the outcome of the 2016 vote, he believed referendums were "appalling and a sin against parliamentary democracy".
Former Labour transport secretary Lord Adonis called for the public to have the "final say" on the UK's exit in the form of another referendum.
But House Of Cards author Lord Dobbs said talk by some peers of sabotaging Brexit was "sad and unwise".
"The ambition of this Bill is modest," he said. "Simply to ensure continuity from day one. Very little will change.
"Yet I grant in these modest changes everything will change. We will bring back government closer to the people. We will once again make our own laws and be subject to our own courts.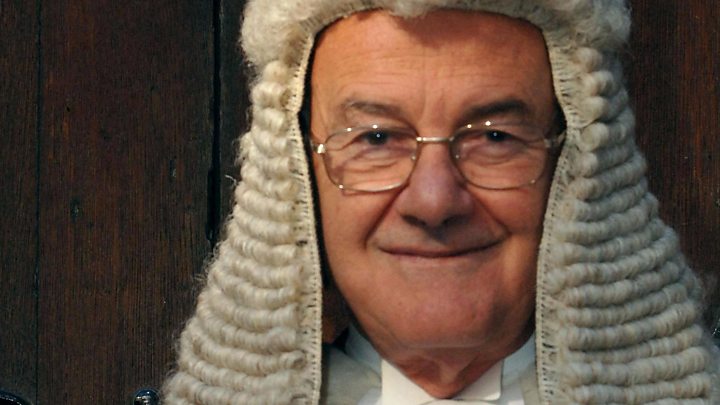 "That's what the people have given their voice to and that is what we must enable through this bill in a timely manner."
The bill aims to transpose existing EU law on to the UK statute book so existing rules and regulations continue to apply as the UK leaves on 29 March 2019.
On Monday the Lords Constitutional Committee said the bill needed to be reworked because it was "fundamentally flawed" and "constitutionally unacceptable".
Another contentious part of the bill concerns devolution - and what happens to powers which are currently not reserved to Westminster, but which are exercised from Brussels. The UK government has been accused of a "power grab" by the Scottish and Welsh governments.
It has promised amendments to address their concerns.
As the bill started its passage through the Lords, Labour's Baroness Smith said it was time to move on from "slick soundbites" about Brexit to the "nitty gritty of the detail".
Lord Newby, the leader of the Liberal Democrats in the Lords, said the Bill "exhibits the arrogance and incompetence of the government in equal measure".