Bid to re-run Unite leadership election begins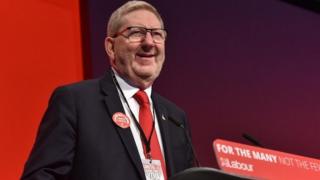 The first step in a bid to re-run the fiercely contested election for the general secretary of Britain's largest union, Unite, has taken place.
The union watchdog - the "certification officer" - appointed a judge to look in to the claims of the defeated candidate Gerard Coyne that the election should never have taken place and that there was no level playing field.
Mr Coyne lost the contest narrowly last year but is claiming it was wrong for the incumbent, Len McCluskey, to have engineered a contest by resigning before his term of office expired and in effect continuing to carry out the duties of general secretary when he was a candidate - giving him an unfair advantage.
Mr Coyne was sacked as a union official after his bid for the leadership failed.
Wider tensions
The judge, Jeffrey Burke, will now hold a one-day hearing on the issue on 27 March. If he finds in Mr Coyne's favour, the contest will be re-run. If he doesn't he will then consider other complaints against Unite in June.
The contest was seen to reflect wider tensions in the Labour movement.
Len McCluskey strongly supports Jeremy Corbyn as Labour leader while Mr Coyne had backed Owen Smith, who unsuccessfully challenged Mr Corbyn for the leadership in September 2016.
A Unite spokeswoman said Mr Coyne's claims "do not stand up to scrutiny" and it was pleased the process of considering them was under way.
"Unite believes the certification officer will agree entirely that the executive council was correct to call an election," she said.
"Additionally, Unite is also pleased that the directions today require Mr Coyne to now disclose any evidence he intends to rely upon in regard to allegations that to date remain unsubstantiated by any evidence whatsoever."