David Cameron: Brexit's turned out 'less badly than first thought'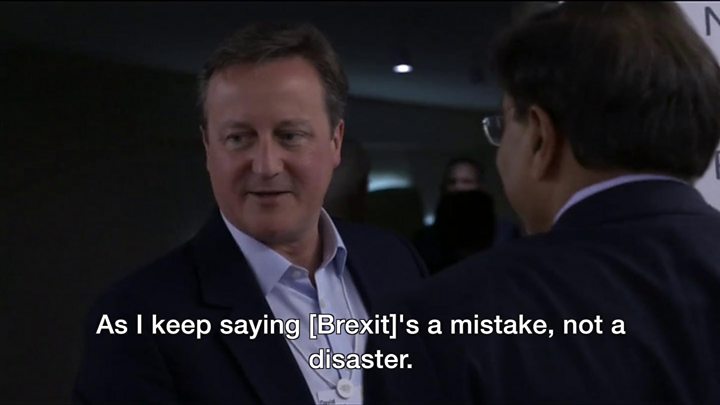 Brexit has "turned out less badly than we first thought", David Cameron has said.
The former prime minister was recorded at the World Economic Forum in Davos saying the Leave vote was "a mistake not a disaster".
Mr Cameron called the 2016 referendum on the UK's membership of the EU, campaigned to stay in and resigned after the Leave side won.
His apparently unguarded comments were highlighted by Channel 5 News.
"As I keep saying, it's a mistake not a disaster," he was heard saying in a conversation with steel tycoon Lakshmi Mittal.
"It's turned out less badly than we first thought. But it's still going to be difficult."
The Remain campaign during the referendum warned of an immediate economic impact on the UK of a vote to leave the European Union.
In a speech to Vauxhall car workers, in Ellesmere Port, four months before the referendum, he warned voters about the economic shock that he said would be caused by a vote for Brexit.
'Economic bomb'
"Let's just remember what a shock really means. It means pressure on the pound sterling. It means jobs being lost. It means mortgage rates might rise. It means businesses closing. It means hardworking people losing their livelihoods."
He stepped up his warnings as the referendum date approached, warning on 6 June that Brexit would be like putting a "bomb" under the UK economy and telling MPs a week later that "nobody wants to have an emergency Budget, nobody wants to have cuts in public services, nobody wants to have tax increases", but the economic "crisis" that would follow a vote to leave could not be ignored.
"We can avoid all of this by voting Remain next week," he added.
He described a vote to leave the EU as a "self-destruct option" for the UK, after a Treasury analysis warned it would tip the UK into a year-long recession, with up to 820,000 jobs lost within two years.
At other times he sounded more optimistic about the prospect of leaving, saying, in May 2016, "Britain is an amazing country. We can find our way whatever the British people choose."
A leading Brexit supporter, former Conservative and UKIP MP Douglas Carswell, welcomed Mr Cameron's comments.
The BBC's chief political correspondent, Vicki Young, said Tory Brexit cheerleaders she had spoken to were "thrilled", telling her the former PM had come round to their "way of thinking".
But she said one leading Remain campaigner in the party said it was "far too early" to tell what the long-term consequences of leaving the EU would be.
Former Labour MP Gisela Stuart, who now heads pro-Brexit campaign group Change Britain, said the former PM's "scaremongering" about the economic damage of Brexit had proved to be "baseless".
"I hope that pro-EU MPs who continue to do Britain's economy down join Mr Cameron in admitting they're wrong, and focus their energies on getting the best Brexit deal for the UK," she said.
Although the pound fell sharply after the vote, the UK economy has continued to grow, and unemployment has fallen to a 42-year low. Mortgage rates have stayed at generally the same low levels they have been since the financial crisis in 2008.
The UK and the EU are currently negotiating the terms for the UK's exit and future relations, and the date for Brexit has been set for 29 March 2019.