Brexit transition phase not a deferral - David Davis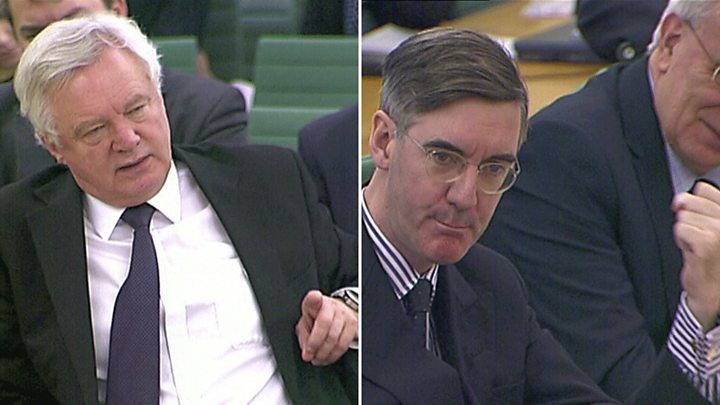 David Davis insists the transition period after the UK leaves the EU is not a "deferral" of Brexit, even though the UK will follow Brussels' rules.
He rejected claims by Tory MP Jacob Rees-Mogg it would be "more honest" to say the UK was effectively staying in the EU for two years after Brexit day.
The Brexit Secretary confirmed the UK would be subject to European Court of Justice rulings during the transition.
But he said it would be free to strike trade deals with other countries.
This was something it was not allowed to do while still a member of the EU, he told a committee of MPs.
The UK will officially leave the EU on 29 March 2019 but will continue to allow free movement of people, goods and money for about two years to allow businesses to adjust.
The EU is seeking to tighten the conditions which will apply to the UK during the transitional period, according a draft of revised EU guidelines.
It would further restrict the UK's freedom to determine its own rules on immigration, trade and fishing and see full freedom of movement extended until the start of 2021.
Mr Rees-Mogg said the UK would be a "vassal state" of the EU - subject to its rules without any say over how they are made.
Mr Davis said that would be the case if that arrangement continued "in perpetuity" but he insisted that would not happen, telling the Commons Brexit committee: "No vassal state, us".
He told the MPs: "I don't want the country to be sucked into something that is not an implementation period but an extension."
But he also said he expected a clash with some EU nations over whether the UK will be able to seek its own trade deals during the transition period.
"Firstly, we will not be members of the union. We will be replicating to a very large extent the operations of the single market and customs union in order to make sure there is a single change, from the point of view of businesses in particular," he said.
"We will not be subject to the duty of sincere co-operation, which is what stops us arriving at trade deals now [and] negotiating and signing trade deals now. So that freedom will exist."
But he added: "There may be an argument over the issue of doing outside negotiations. There may well be an argument over that."
CBI 'too conservative'
The UK's approach was one that "visibly does no harm to the European Union" but "there are people within the union who want to restrict any advantage for us", he added.
Mr Davis said he expected to reach a deal on a transition period by March - and he wanted it to last between 21 and 27 months after Brexit day.
The EU's chief Brexit negotiator Michel Barnier has said the transition should end after 19 months, in December 2020.
Mr Davis said it was not a deal breaker that EU wanted a shorter transition period but he thought two years was "about right" for the UK.
He also hit back at the CBI's call for the UK to stay in the EU customs union, a view he had shared before becoming Brexit secretary, saying business groups were being "small-C conservative" about Brexit.
He said they were focused on trying to protect their existing members without thinking enough about "future trade", adding that the companies that will benefit from new markets opened up by Brexit "don't even exist" yet.