Labour NEC intervenes in Haringey development row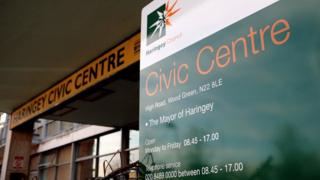 Labour's National Executive Committee has called on the party's councillors in a north London borough to halt a controversial housing project.
It has advised Labour-run Haringey to pause the project - which has split the local party - if mediation aimed at overcoming the divisions fails.
The project is opposed locally by pro-Corbyn pressure group Momentum.
The NEC was meeting for the first time since Momentum founder Jon Lansman was elected as one of its members.
The public private partnership to redevelop a large council estate has proved hugely divisive within the Haringey Labour Party.
The row came to national attention when Labour leader Jeremy Corbyn signalled his misgivings at last year's party conference.
Momentum has campaigned against the project, suggesting it could lead to social cleansing.
Around a third of the Labour group - mainly supporters of the scheme - have since either been deselected, or have stood down ahead of this spring's council elections.
Momentum is likely to have a strong influence on council policy if Labour wins the May election, so the future of the scheme had already been in doubt.
Labour's ruling national executive is advising the existing council leadership to pause its plans for the project if local divisions continue - this, in effect, could kill it off.
Supporters of the scheme argued it would bring much needed private funds into the regeneration of a deprived area.
Momentum immediately welcomed the NEC decision - and some will see this is a symbol of the group's growing influence within the party.
But the BBC understands that the national executive's vote was unanimous, with backing from both the left and right of the party.
A Momentum spokesman said: "It is great to see such unity in moving against this hugely unpopular damaging policy which, if forced through, could see many residents kicked out of their homes."
A Labour source said: "The Haringey Development Vehicle is deeply unpopular in Haringey.
Following a request from local councillors to intervene, the NEC has agreed to advise Haringey council to pause the plans if mediation processes do not bring a solution."
---
The two sides of Labour's Haringey row