Justine Greening: Next generation of MPs could 'improve or undo' Brexit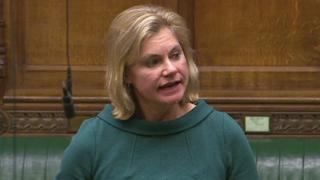 A future generation of MPs will seek to "improve or undo" Brexit if it does not work for young people, a former cabinet minister has said.
Justine Greening - who quit as education secretary in last week's reshuffle - said MPs had a duty to make sure Brexit was "sustainable".
She was speaking as the Commons debated the government's EU (Withdrawal) Bill.
MPs have now voted to back the bill which means it moves to the House of Lords.
Ms Greening resigned from government last week after refusing the move from education to the Department for Work and Pensions she was offered by Prime Minister Theresa May.
Speaking for the first time from the backbenches, the Putney MP said: "I represent a very young constituency here in London.
"The bottom line is that looking ahead, if Brexit doesn't work for young people in our country in the end it will not be sustainable.
"When they take their place here they will seek to improve or undo what we've done and make it work for them.
"So we do absolutely have a duty in this House to look ahead and ensure that whatever we get is sustainable and works for them."
Asked about Ms Greening's comment, Theresa May's official spokesman said: "The prime minister is clear that she is determined to deliver a Brexit which works for all sections of society. Of course that would include young people."
Votes later
The draft EU bill has already been the subject of highly charged debate in the Commons, facing hundreds of attempts to change its wording and suffering one government defeat.
Ministers were not expected to lose Wednesday evening's third reading vote, and it passed by 324 votes to 295.
But there have been warnings of trouble further ahead when the House of Lords takes over.
The government can seek to overturn any changes inflicted by the Lords.
The UK is due to leave the EU in March 2019, and the EU (Withdrawal) Bill is a key part of the government's Brexit strategy.
It aims to end the supremacy of EU law, which would be copied into UK law in order to ensure a smooth transition on Brexit day.
Article 49?
Much has been said about Article 50 of the Lisbon Treaty, under which the UK gave formal notice of Brexit in March.
But now the head of the European Commission has said the UK could always reapply to join - using Article 49.
Article 49 sets out the procedure for new countries wanting to join the EU.
On Tuesday EU Council chief Donald Tusk suggested the UK would be welcome to stay in the EU if it changed its mind about leaving - comments that were dismissed by Brexit campaigners.
Speaking at the European Parliament on Wednesday, Mr Juncker said: "We are not throwing the British out, we would like the British to stay, and if they so wish, they should be allowed to do so.
"In London, there was a rather irritated response to this proposal (to stay in the EU), but note that even if the British leave according to Article 50 then Article 49 would allow them to accede again and I would be happy to facilitate that."