Momentum's Christine Shawcroft voted on to Labour disputes panel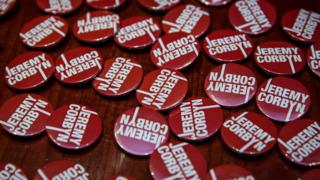 A director of Momentum - the group set up to support Jeremy Corbyn's leadership - has taken charge of the Labour Party's disputes panel.
Christine Shawcroft replaces Ann Black as the head of the committee, which investigates allegations of sexual harassment, anti-Semitism and disciplinary breaches.
It comes after Momentum increased its hold on Labour's executive committee.
Some critics in the party said it was a sign it was run by a "leftist clique".
Blackadder star and Labour member Sir Tony Robinson accused supporters of Mr Corbyn of "undermining" Ms Black, whom he described as "a radical voice for ordinary members on the NEC with an awesome work rate".
But a Momentum source said there had been widespread frustration with Ms Black and that trade unionists and shadow cabinet members had also voted to replace her.
Ms Shawcroft has been a Labour member for 20 years, holding several officer roles within the party.
---
Analysis by BBC political correspondent Iain Watson
Elections to rather obscure internal Labour committees rarely make the headlines.
But people who describe themselves as moderates are arguing that Momentum has now increased its grip on the party's levers of power.
And they say it's significant that the group has moved against someone who is regarded as being on the left, not the right, of the party.
The disputes panel had been chaired by Ann Black - who was popular with many at the grassroots.
But she had upset some in Momentum when she'd backed rules which would have made it harder for newer members to get a vote in the last Labour leadership election.
They believed this favoured Jeremy Corbyn's opponent.
Momentum sources argue that they could not have changed the chair of the disputes panel without the backing of key shadow cabinet and union members, too.
---
Momentum was formed from Mr Corbyn's successful Labour leadership campaign and has since become a major player in the direction of the party.
On Monday its founder, Jon Lansman, was among three new members voted on to the ruling National Executive Committee.
As Labour's supreme decision-making committee, the NEC plays a key role in the overall direction of the party as well as helping set the rules for leadership contests.