Carillion: Watershed moment for privatisation debate?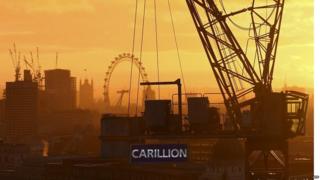 Ministers are feeling the pressure of awkward questions today.
Carillion is not the first big public contractor to run into trouble under successive governments and surely won't be the last.
But why was so much expensive business and responsibility heaped onto a single company - and a company many felt for months could be heading for trouble?
Away from Whitehall - where day-to-day decisions on public projects are taken - Oxfordshire Council say they've noticed the warning signs for some time.
Now, the sight of that local authority putting fire fighters on standby to provide school meals may provide enormous fun for the children, but it also symbolically reinforces the impression of a shock to the system and all hands to the pumps, like the convening of the emergency Whitehall committee, Cobra, later on Monday.
Other questions being raised today run deeper. Far deeper. Cabinet Office minister David Lidington says there can be no question of asking taxpayers to bail out a private company, along with its shareholders. Few are arguing with that.
Free marketeers can argue lucrative contracts come with risks attached in private business, and the same risks should be borne, and prudently guarded against, when it comes to public projects. On the left, there's scorn for the idea that profits should be privatised and losses nationalised.
But the Carillion collapse may also be the spur for an ideological debate as fundamental as any seen since Margaret Thatcher began to roll back the frontiers of the state in the 1980s.
A senior member of Team Corbyn, one not usually prone to public displays of emotion, told me he believed the Carillion affair would turn out to be a political "watershed".
The party hierarchy is preparing to reel out statements and push lines of attack challenging the role of private business in the public sphere on multiple fronts.
Shadow Chancellor John McDonnell has already pledged to consider taking a range of Private Finance Initiative schemes back into public ownership or control or both. This week, Labour shadow ministers will challenge the fundamental case for private sector involvement in prisons, schools, hospitals.
Attacks will be seasoned by the suggestion that some of those responsible for handing out contracts have too easily ended up taking well paid jobs with the recipients.
Just a couple of years BC (before Corbyn) the case in principle for significant private sector involvement in public services seemed to go virtually unchallenged.
Now the settled political consensus has been opened to question again. The case for private enterprise in the public sphere is far from being lost.
But the fact that ministers are having to make it again, afresh, speaks volumes about the new polarisation of view which has taken hold at Westminster, and on which the next general election will be fought.