Brexit: Seven thoughts on a second referendum
Former UKIP leader Nigel Farage suggested earlier he was coming round to the idea of a second EU referendum - what is going on?
The chances of a second poll
To paraphrase the old joke, there are probably two chances of a second EU referendum right now - slim chance and fat chance. Ladbrokes is currently offering odds of 5/1 on it. At 11/8 the bookmakers think it is more likely that no deal will have been agreed before Britain officially leaves the EU on 29 March 2019. Theresa May and Jeremy Corbyn have ruled out a second vote, both essentially arguing that it would be seen as a catastrophic breach of trust with a public already weary of broken promises.
An establishment stitch-up?
The idea that the political establishment will just keep holding referendums until they get the result they want - or simply ignore the result if they don't like it - was a constant refrain during the Brexit campaign. It has happened before, say Brexiteers.
France and the Netherlands both rejected an EU constitution in 2005 referendums, which led to the document being repackaged and adopted by both countries as the Lisbon Treaty.
Ireland then rejected the Lisbon Treaty in a 2008 referendum - it was the only EU country to hold such a vote - but then accepted it in a second referendum the following year, following pressure from the rest of the EU.
But sometimes the establishment gets the result it wants and still has to face another vote.
The term "neverendum" was coined in the French Canadian province of Quebec, which has twice voted against independence from Canada - the first time in 1980 by a majority of 59%. the second time, in 1995, by a shade over 50%. The prime ministers at the time of the two votes were pro-Canada. The independence campaign has never stopped pushing for a third vote.
Farage has said it before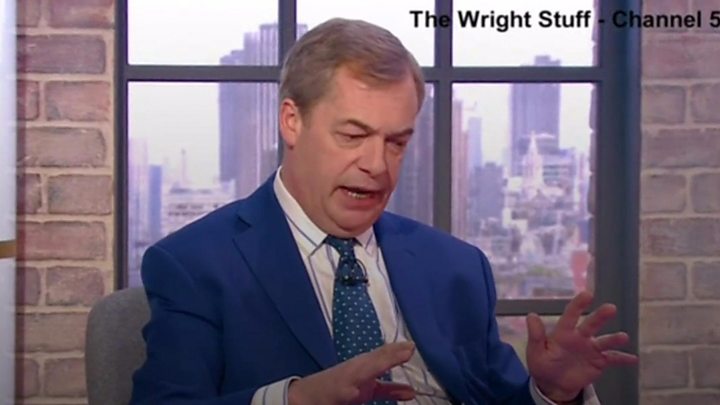 The former UKIP leader has angrily denounced "Remoaners" like Tony Blair and Sir John Major for suggesting the public should be given another vote.
"I think there are 17.4m people out there who voted Brexit despite being told it was the wrong thing to do and I really think it would be a big mistake if these people get pushed too far," he said on his LBC radio show in November 2016.
Yet before the referendum, he freely admitted he would have kept pushing for another vote if his side lost by a narrow margin.
"In a 52-48 referendum this would be unfinished business by a long way. If the remain campaign win two-thirds to one-third that ends it," he told the Daily Mirror.
There is a kind of consistency here - the former UKIP chief will not be satisfied until Brexit has been resoundingly backed by the people, to "finish the whole thing off".
"It may well be that Nigel would get what he wants which is a completely hard Brexit," veteran Tory Eurosceptic Bill Cash told the BBC.
But he added: "I do find his position quite unconvincing and for him to be, as it were, bedfellows with the Liberal Democrats I think is one of the funniest things I've ever seen in British politics."
Perhaps Mr Farage - and one-time UKIP donor Arron Banks who also now backs a second referendum - are missing the spotlight and fancy getting the Brexit band back together for one more tour.
He later clarified his remarks, saying a second referendum was the "last thing" he wanted to see but the Leave side had to be ready for one, as Remainers claimed support for another vote was growing.
The opinion polls have not really shifted
For all the sometimes wild claims from both sides, if a second referendum was held now there is no guarantee the outcome would be any different. Polling suggests Britons are becoming increasingly sceptical about the government's handling of Brexit talks "but Leave voters for the most part have not changed their minds about their decision", pollster Sir John Curtice said this week.
The democracy argument
But - say Remainers like Tony Blair - why should the 2016 referendum be the final word? That's not how democracy works, they argue.
Mr Blair said in a BBC interview that people should be given a chance to "think again" once they have seen the final exit deal.
He was a bit vague on how this might happen, suggesting it could be via another referendum or a general election, although this, he claimed, was a "second order" issue. Only the Liberal Democrats, with 12 MPs, are openly pushing for a second referendum.
When would a second referendum have to be held?
Britain leaves the EU in March 2019. The next scheduled general election is on 5 May 2022. It would take a change of Labour and/or Tory leadership, not to mention a major policy shift, and, in all likelihood, an early general election. So if there was to be another vote it would probably have to be held this year or, at the very latest, early next year.
What would the question be?
The June 2016 question was simple: "Should the United Kingdom remain a member of the European Union or leave the European Union?"
The next one, if it is ever posed, might be a bit more convoluted...