Jo Johnson: PM's ex-aide 'so wrong' about Justine Greening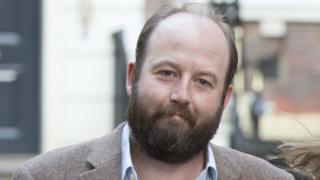 Theresa May's former adviser has sparked criticism for a newspaper article attacking ex-education secretary Justine Greening.
Nick Timothy said Ms Greening - who quit in the reshuffle after the PM tried to move her to another department - had resisted attempts to reform school and tuition fees policy.
This claim was branded "so wrong" by ex-universities minister Jo Johnson.
Mr Johnson said Ms Greening had been "faultlessly loyal".
Mr Timothy, who quit Downing Street after playing a key role in the Conservatives' unsuccessful general election campaign, has since become a newspaper columnist.
In the Daily Telegraph, he wrote that when she was education secretary, Ms Greening had "exasperated" Mrs May, was "unpopular with officials" and "frustrated reformers".
"Charged with making Britain 'the world's great meritocracy', she put the brakes on policies that work, like free schools, and devised bureaucratic initiatives of little value," he wrote.
He denied allegations that he had "orchestrated" Ms Greening's departure from her post, but backed the decision to replace her with Damian Hinds. He also accused her of blocking proposals to cut university tuition fees.
But his claims were dismissed by Mr Johnson, who was universities minister until the reshuffle, when he was moved to the Department for Transport.
Another Conservative, former minister Anna Soubry, tweeted:
Mrs May's official spokesman said: "Nick Timothy left Downing Street more than seven months ago and he doesn't speak for the prime minister or for the government."
BBC political editor Laura Kuenssberg said while Downing Street insiders insisted Mr Timothy no longer had contact with Mrs May, any intervention by him wound up many Conservative MPs: