Time for an answer on the NHS?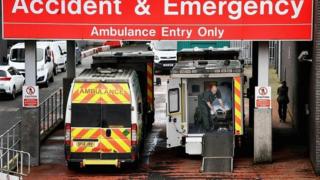 There are some things that are more or less unsayable in politics, at least for people who want to win elections.
For many years, any serious conversations about big changes to the NHS or its principles have been on that list. But with the service creaking, individual horror stories emerging during this winter's period of pressure, the chorus of "something must be done" is growing louder.
This morning's latest figures that will give the statistical verdict on the frustration of patients and problems for hospitals in England will give more ammunition to those, including Tory MPs and the prime minister's influential former chief of staff who are arguing for a Royal Commission, or cross-party conversation to thrash out the issues.
Behind closed doors pretty much every politician will acknowledge the service is going to need more money, but it's a question of how, when, and with what strings attached. But while there have been lots of demands for a proper debate on what's next, ideas and proposals are thinner on the ground.
With even the Health Secretary Jeremy Hunt wishing he had more answers for 'long term funding', however, maybe they will start to emerge.
Today the former minister Nick Boles, considered one of the Tories' big brains, is venturing an idea that he believes could provide a solution, give long-term stability to the NHS finances and take some of the political grand standing out of the issue.
In the latest chapter of his book, he argues it is "foolish to delude ourselves that we can meet legitimate demands for high quality care without spending more money".
Without reform he writes, the NHS is a "cuckoo in the Treasury nest, hungrily demanding ever more money and pushing other public services ever closer to the edge".
His answer is a "hypothecated tax", rebranding national insurance as 'National Health Insurance', where voters' payments of NI overtly go specifically to the NHS, the money held and distributed from a stand-alone fund, outside the Treasury's grasp, spent according to plans set every five years.
Traditionally such an idea would be likely to send a chancellor to hospital with a panic attack themselves.
But while it's not perfect, interestingly the idea of a specific tax for health has the backing of a former boss of the Treasury, Nick McPherson, among others. Number 11 hates to lose control of money, but politically, as the NHS struggles, demands for new thinking are building.
It's of course quite possible, with the demands of Brexit and the difficulty of touching the NHS at all, that Number 10 will simply hope to get through the annual winter stresses, carry on with its reform and get on quietly with its longer term planning to reform social care.
Labour will continue to make the case that more money is urgently required and that private providers are gobbling up too much of the NHS Budget.
Certainly, it would be surprising if Theresa May was to hunt for any radical change soon. And government sources say most people's experience of the health service is still very positive, so perhaps there's no real demand for change and once the winter passes all will be well.
That feels optimistic though. Some NHS insiders argue that the service and its current model is reaching the end of its very long tether.
In fact, today the boss of NHS providers, the organisation that represents hospital managers, has written to the health sec saying the service can't go on like this and is at a 'watershed moment'
The targets that have been recently missed will be extremely hard to reach again. Voices like Boles' joining the demands for change matter.
And most importantly, each day of difficulty for the NHS that's witnessed or experienced by members of the public first hand brings us closer to a day when "something must be done" becomes a political demand that is impossible to ignore.