Call to curb disruption caused by holiday lets like Airbnb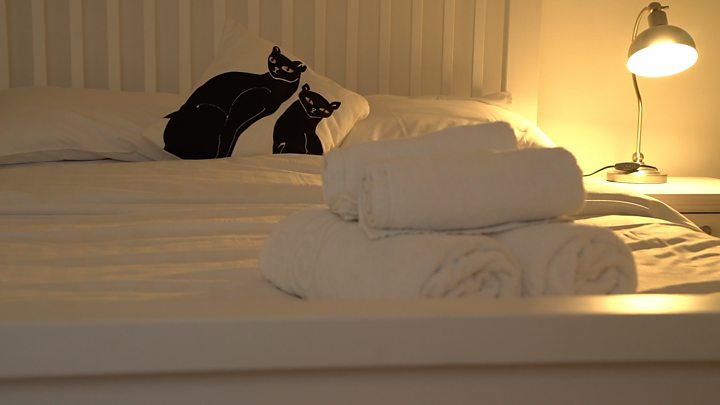 Airbnb was born from two flatmates renting out their spare room in San Francisco for some extra cash, but now short-term lets have grown into a mass market.
Research by the Residential Landlords Association published in December found the number of Airbnb rentals in London has increased by 187% since 2015.
It's not only London where Airbnb is booming. The biggest increase of the 10 cities sampled was in Birmingham, which has seen a 678% increase in the last two years, while Liverpool has recorded a 535% growth in demand.
The company says it is taking action to limit potential problems for neighbours and has urged other firms who advertise short-term lets, such as Booking.com and TripAdvisor, to follow its lead.
But not everyone is happy.
Areas of Liverpool have suffered a "summer of mayhem and all-night parties" because of holiday lets, according to a local councillor.
Laura Robertson-Collins, a local councillor who represents an area in the south of the city popular with students, said that while her residents were used to noise during term-time, they now had to deal with anti-social behaviour during holidays too, with landlords using short-term lets for extra income.
One resident described how on several occasions he had to deal with groups shouting, drinking and smoking in the street in the early hours of the morning.
In one instance a fire extinguisher was set off and objects were hurled from upstairs windows, leading to police being called.
"With students I can complain to the council or the police and it's followed up. But with short-term lets people are gone after a couple of days," he said.
In November, Ms Robertson-Collins, along with two other councillors, submitted a motion to Liverpool City Council calling for registration of short-term lets and a 90-day limit on the number of days a property can be rented on such a basis.
The council agreed the motion unanimously and is now calling for action at a national level so the recommendations can be carried out.
Karen Buck, MP for Westminster North, is also campaigning for the government to act.
In her constituency, she said the number of properties advertised on Airbnb rose from 1,603 in 2015 to 3,621 in 2017.
"In blocks of flats, long-term residents find themselves living in a hotel but without the services to support it, like staff and security," she said.
"They have to deal with constant comings and goings, security concerns, noise, rubbish. These properties turn over every few days so you feel you aren't living in a residential community."
Ms Buck said short-term lets were also contributing to housing shortages.
"The original concept of Airbnb was you rent your flat out when you're away or your spare room. That still happens and that's absolutely fine. But what's also happened is professional landlords have moved in, who in many cases own multiple properties."
Loopholes
Moving to the short-term let market can be lucrative. Research by Westminster City Council found that renting a one-bedroom flat in the area will make £495 a week on ordinary tenancy, but £1,561 a week on a nightly basis.
Two years ago, the law changed to allow London properties to be let for up to 90 days a year without permission from the council.
In January 2017, Airbnb introduced a block on London hosts renting out homes for more than 90 days a year, to ensure users complied with the law.
But Luke Smith, who rents out his London home on Airbnb while he is abroad, said some landlords were finding ways around the rules.
He said loopholes which could be exploited included relisting a property under a slightly different address or advertising a whole flat as a single room, which is not covered by the 90-day limit.
He said many people also advertise on alternative platforms to get around the cap.
Airbnb said a team closely monitored listings for fraudulent activity.
A spokesperson said it was the "only platform that works with London to promote the rules and limit how often hosts can share their homes".
The company said other sites who advertise short-term lets but don't enforce a 90-day block, such as Booking.com and TripAdvisor, need to "step up and follow our lead".
Ms Buck said it was difficult for councils to enforce the 90-day limit.
"It's difficult to monitor. Local authorities have to spend a lot of time and money trying to catch the people breaking the rules," she said.
She has put forward a bill to Parliament calling for all short-term lets to be registered.
"My suggestion is very light touch. People who are staying within the law are fine and just need to spend 30 seconds registering their property online. There's no question of denying permission.
"But for people that are breaking the rules, we have a means of bringing them to justice," she said.
The bill has cross-party support but is unlikely to become law without government backing.
Victor Margiotta, who lives in Bayswater, west London, said three houses out of 13 on his road have been short-term lets.
Registration would allow councils to monitor short-term lets and lessen their negative impact, he said.
"Nobody can be sure how long these people are staying without CCTV. But on my road I believe properties have been let for more than 90 days a year. Regulation needs to be enforceable."
Outside the capital there is no specific planning restriction on short-term letting.
Joe Davies manages around 40 Airbnb properties in Liverpool through his business, Host So Simple.
He said holiday lets could also bring huge benefits to a city.
"It brings in a lot of money to Liverpool. Hotels hire staff but ultimately the profits end up in shareholders' pockets. As a Liverpool business we use local builders to refurbish properties."
'Regulation not limitation'
Mr Davies said he understood the need to limit holiday lets in cities with a severe housing shortage like London.
But he said "regulation" and not just "limitation" was needed.
"In Liverpool I think it's slightly different. We are not New York or London. We are trying to grow and compete with these cities. One of the ways to do that is to attract more visitors," he said.
"I would welcome a licensing system to make sure properties are fit to rent, with licences revoked if they are abused. Those who rent responsibly should not be punished because someone else decides to abuse the system."
But Ms Robertson-Collins said there was still risk of a damaging long-term impact.
"Obviously having a strong visitors' economy is great and we don't have the same problems as London with rent levels at the moment. But Liverpool is becoming more vibrant and our population is rising," she said.
"At the moment it feels potentially beneficial but if the growth of holiday lets carries on at the current rate it could have a negative impact on the housing market."