Was May foiled in reshuffle aims?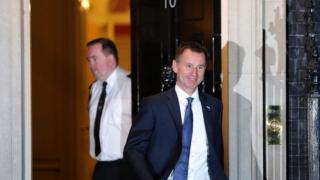 Theresa May had mulled over her reshuffle for months.
On Monday she felt daring enough to do it, after ending the tumult of 2017 with the government in better shape than for quite some time, despite the embarrassing departures of some of her colleagues.
The task was not to make radical changes, the most senior jobs were never in question, but the plan was to get the right reformers into the right jobs in her view, and to plan for the future.
The question of the long term will still be dealt with tomorrow, when junior ministers are expected to be appointed, with far greater numbers of women and ethnic minority MPs, part of the Tories' effort to look more like the country they govern.
New faces and potential new stars have already been despatched to Tory HQ to try to make a difference there. But in terms of the hopes Theresa May had of moving her cabinet colleagues around?
Of three experienced ministers she wanted to move? One persuaded her he shouldn't have to budge, one was never even asked to shift, and the third, Justine Greening, quit in protest.
In allowing Greening to walk, the PM has lost a Northern voice, who represents a London marginal constituency, who is in a same sex relationship. Even without her six years experience in the Cabinet, any one of those factors are precious commodities in the Tory Party.
And while Justine Greening is a determined pragmatist - her detractors might say determination that can make her difficult - she was a strong Remain voice who could be tempted to join that powerful chorus of former ministers on the backbenches who relentlessly push the PM for answers on her Brexit plans.
Even prime ministers at the peak of their powers can fall foul of reshuffles when their colleagues refuse to collaborate. One foiled move can upset the whole play.
But while Monday wasn't quite Christmas panto, it was not the glorious return to the business of government planned to usher in 2018.
Theresa May had enough authority to try to make her moves, but found she had not enough to deliver them all.