Dormant bank accounts to yield £330m more for good causes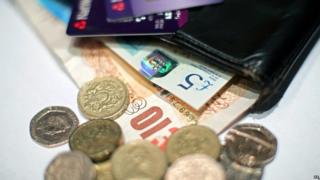 A further £330m in cash from dormant bank and building society accounts is to be spent on good causes in the UK.
Roughly a third of the money will be used to provide accommodation for homeless people and those with mental health conditions in England.
The dormant bank account initiative was first launched by Gordon Brown when he was prime minister.
Since 2008 £360m has so far been recovered and spent from accounts that had not been used for 15 years.
Up to £1bn in funds sitting in unused accounts has been identified over the past decade and an extra estimated £330m will be released over the next four years.
Other intended beneficiaries by 2022 include financial exclusion, youth unemployment and problem debt schemes.
'Fairer society'
Tracey Crouch, the minister for sport and civil society, said the latest dispersal under the auspices of the 2008 Dormant Bank and Building Society Accounts Act would make a "real difference".
"This is part of the government's commitment to building a fairer society and tackling the social injustices that hold people back from achieving their full potential," she said.
The money is being distributed by the Big Lottery Fund, which supports community projects with money raised through the National Lottery. It is chaired by former Conservative MP Peter Ainsworth.
Big Society Capital, a financial institution set up by David Cameron to support his Big Society localist agenda, will be given £135m to spend on housing schemes and on supporting local charities and social enterprises.
Elsewhere, £90m will be allocated to schemes to help disadvantaged groups in England find work, while £55m is to be earmarked to tackle problem debt and to help those on low incomes get access to financial services such as savings accounts or loans. Up to £50m will be allocated to the devolved administrations in Scotland, Wales and Northern Ireland.
More than 25 leading High Street banks and building societies participate in the voluntary scheme, including Barclays, HSBC, Lloyds, Royal Bank of Scotland, Nationwide, TSB, Santander and the Co-operative Bank.
Scheme widened
Adrian Smith, chief executive of the company set up to recover the money - Reclaim Fund Ltd - said he was delighted at the latest announcement.
"We will continue to work hard in ensuring that consumers can at any time reclaim money owed from their dormant accounts while working with the government to deliver further funds for good causes," he said.
Among the charities to have received support to date include Age UK's Reconnections programme in Worcestershire, Harrogate Skills 4 Living Centre in Yorkshire, a residential care home for 90 adults with learning disabilities that offers adult education courses and Harry Specters in Cambridgeshire, a chocolate maker social enterprise that creates employment for young people with autism.
The government is considering whether to extend the scheme to other classes of unclaimed financial assets, including shares, pensions, insurance policies and other investments.
In a report last year, a commission of experts suggested up to £2bn could potentially reside in such products, although it recommended that further legislation would be required to access it.