University job backlash because I'm a Tory - Toby Young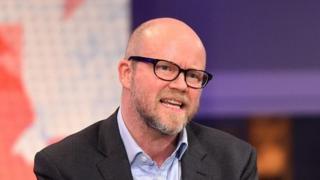 Writer Toby Young says his appointment to the board of a new higher education watchdog is being criticised largely because he is an "outspoken Tory".
Unions and Labour MPs have attacked his job at the Office of Students while remarks he made in 2012 on inclusivity have sparked a social media backlash.
The Spectator columnist said his efforts to widen access to education meant he was "tangentially qualified".
He said he was a target for the left because he supported the government.
Mr Young, who co-founded the West London Free School in 2011 and runs the New School Network, is one of six new appointments to the regulator's board.
'Tory cheerleader'
Its remit is to hold universities to account on issues like vice chancellors' pay and free speech on campus, with powers to fine universities which fail to meet the required standards.
The Department for Education has spoken of the "vital insights" his record as the founder of a free school will bring to the role but his lack of direct experience and past comments on educational issues have attracted criticism.
Sally Hunt, general secretary of the University and College Union, said: "If this organisation was to have any credibility it needed a robust board looking out for students' interests.
"Instead we have this announcement sneaked out at new year with Tory cheerleader Toby Young dressed up as the voice of teachers and no actual representation from staff or students."
Labour MP David Lammy said on social media on Monday: "Is that Toby Young who said I was wrong to criticise Oxbridge for failing to improve access?
"The Toby Young who only got into Oxford University because his Dad rang the tutor up?
"Toby Young who slated working class students? I thought it was New Year's Day not April Fool's Day."
Critics have highlighted Mr Young's description of working class students as "stains" in a 1988 book about class.
Left-wing journalist Paul Mason accused him of "despising" working class children - but Mr Young hit back on Twitter, saying he had "helped set up four state schools that when full will educate nearly 2,000 children".
'Dominated by left'
At the secondary school, he went on, more than 33% of pupils "are eligible for the pupil premium and we reserve 20% of the places at the primaries for same".
In a subsequent interview with the Spectator's Coffee House podcast, he suggested he was being targeted because of his political leanings.
"One of the reasons that my appointment has caused such a fuss is because I am an outspoken Tory and a defender of the government's education reforms," he said.
"This is a sector, and I think there is no secret, which is completely dominated by the left."
He conceded claims that he did not have much direct experience of working in higher education were "broadly true", he suggested it was "ridiculous" to suggest only those who did were entitled to do the job.
"If that were the case, the regulator would just be a case of the sector marking its own homework."
Comments the right-wing journalist made in a Spectator column in 2012 have also come under fire on social media, with some calling for the journalist's appointment to be blocked by higher education minister Jo Johnson.
'Illiterate troglodyte'
He wrote: "Schools have got to be 'inclusive' these days. That means wheelchair ramps, the complete works of Alice Walker in the school library (though no Mark Twain) and a Special Educational Needs Department that can cope with everything from Dyslexia to Munchausen Syndrome by Proxy."
He called on the government to "repeal the Equality Act because any exam that isn't 'accessible' to a functionally illiterate troglodyte with a mental age of six will be judged to be 'elitist' and therefore forbidden by Harman's Law".
He later added a clarification to the column, saying "I'm using 'inclusive' in the broad sense to mean a dumbed down, one-size-fits-all curriculum, rather than the narrow sense of providing equal access to mainstream education for people with disabilities".
He had not used the word "troglodyte" as a synonym for children with special educational needs, he added.
A Department for Education spokesman said: "Toby Young's diverse experience includes posts at Harvard and Cambridge as well as co-founding the successful West London Free School.
"This experience will be vital in encouraging new providers and ensuring more universities are working effectively with schools."
Mr Young worked as a teaching fellow - a postgraduate student who does some lecturing - at Harvard and a teaching assistant at Cambridge.
The Office for Students board, which includes an engineering student and the managing director of high street chemist Boots, as well as other figures from industry and education, reflects "the diverse needs of the higher education sector", the spokesman added.