Knighthood for Nick Clegg in New Year Honours list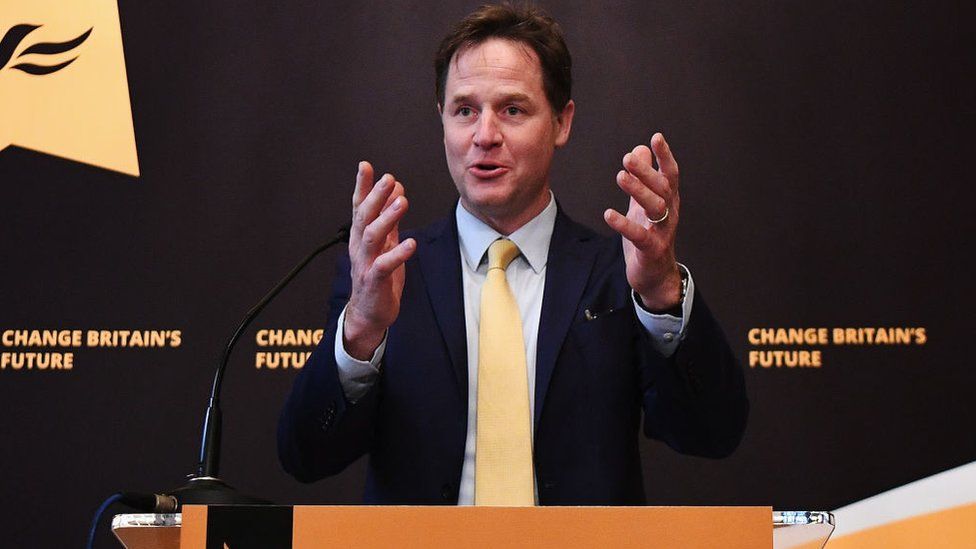 Former Liberal Democrat leader and deputy prime minister Nick Clegg has been knighted in the New Year Honours list.
Sir Nick, who led his party into coalition with the Conservatives in 2010, is recognised for political and public service.
He said he was "grateful" for the knighthood which "belongs as much to my team in government as it does to me".
Tory MP Graham Brady and Labour's Lindsay Hoyle were also knighted.
And Prof John Curtice - whose exit poll correctly predicted the hung Parliament in June's general election - is knighted for services to social sciences and politics.
Political honours are considered by a special committee set up in 2012, which includes independent members and party representatives.
Sir Nick, who lost his Sheffield Hallam seat in the election, follows several of his Liberal Democrat colleagues in being knighted.
He faced heavy criticism from some wings of his party when he agreed to join the Conservatives in a coalition government after the 2010 general election produced a hung Parliament.
Despite some predictions - and an outcry when tuition fees were increased despite a Lib Dem manifesto pledge - the arrangement lasted for the duration of the Parliament, although the party then suffered heavily in the 2015 general election, after which Mr Clegg resigned as leader.
Since leaving Parliament, he has continued to campaign against the UK's departure from the EU - recently publishing a book called How to Stop Brexit (and Make Britain Great Again).
Seeking to avoid any confusion, he wrote on Twitter: "The knighthood does not mean I will serve in the House of Lords. My aversion to unelected Legislatures remains."
As chairman of the 1922 Committee of Conservative MPs, Sir Graham is a powerful figure within the Parliamentary Conservative Party.
The committee's treasurer Geoffrey Clifton-Brown is also knighted, and its vice-chairwoman Cheryl Gillan made a Dame.
Another Conservative MP, veteran former minister Christopher Chope, is knighted.
On the Labour side, Mr Hoyle, who represents Chorley, is joined by fellow Lancashire MP Mark Hendrick (Preston) in receiving a knighthood.
Liberal Democrat deputy leader Jo Swinson said she was "delighted" to become a CBE.
The former Tory children's minister Edward Timpson, who lost his Crewe and Nantwich seat at the election, has also been made a CBE.
David Johnston, chief executive of the Social Mobility Foundation charity, is appointed OBE for services to social mobility and education. He recently quit along with the rest of the board of the government's Social Mobility Commission.
Political awards are often the most controversial parts of the honours list.
In the Tories' 2017 general election manifesto, Theresa May promised to "review the honours system to make sure it commands public confidence, rewards genuine public service and that recipients uphold the integrity of the honours bestowed".
SNP Cabinet Office spokesman Tommy Sheppard said many of this year's honours list could be "rightly proud of the recognition their honour gives to their works".
But he added: "However, they should not be doled out political favours. Sadly, successive Westminster governments have risked demeaning the system by making obvious political appointments."