Call for 'clarity' on referendum spending rules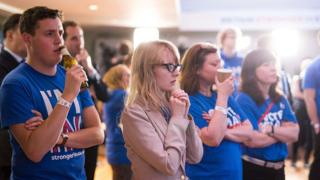 More clarity is needed in rules aimed at stopping campaigners bypassing spending limits during a referendum, the Electoral Commission says.
It said campaigners should have to provide more information to show they were not using multiple groups to avoid hitting spending limits.
The watchdog says it will "review" new claims that the rules were breached by the EU Remain campaign last year.
Britain Stronger in Europe said it had always complied with the rules.
The Electoral Commission is already formally investigating the Leave campaign. Now the Guido Fawkes website is calling for a similar probe into the other side.
It used information published by the commission to suggest that "co-ordinated" spending had been spread between various Remain-backing groups which were set up in the run-up to the referendum.
More than £1m was donated to these new campaigns, it says.
In response, a Britain Stronger in Europe spokesman said it had "always complied fully with Electoral Commission rules on working together and included any instances of it happening in our return to the Electoral Commission".
The commission said: "We consider and assess possible breaches of the rules consistent with our published enforcement policy and will review the Guido Fawkes articles before deciding whether any action is required."
The key question is whether the different groups were "working together" with the official Remain campaign on a "coordinated plan or arrangement".
If they were, their spending would count towards its £7m spending limit.
The commission has previously said it might be difficult for campaigners to know whether this rule applies.
For example, they are able to "liaise and discuss campaigning approaches" but not to spend money on joint advertising campaigns.
The commission called on the government to provide legal clarification of what represents "joint spending". It also said campaigners should have to specify who they worked with and how much they each spent on their spending returns.
There have already been several investigations into the way campaign money was spent during the EU referendum, which Leave won in June 2016.
Last month the Electoral Commission said it would reopen a probe into more than £600,000 spent by a campaign run by university student Darren Grimes, days ahead of the vote.