Gender pay gap: Brexit and Transport departments have most work to do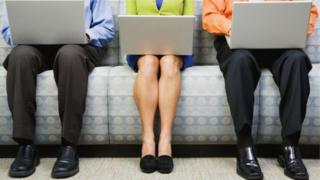 Transport has the widest gender pay gap of any government department, with women earning 16.9% on average less than male colleagues, closely followed by the Brexit department.
Women are paid less than men across the civil service, new figures show, with a gap of 10% in seven other departments.
The lowest disparity is 3% - in the culture, media and sport department.
The UK's top civil servant, Sir Jeremy Heywood, said the data was a "matter for concern".
But he hailed a fall in the overall pay gap from 13.6% to 12.7%.
The pay gap does not necessarily mean women are paid less than men for doing the same job - the transport and Brexit departments suggest the figures are a result of more women in lower-paid roles and more men in the highest paid roles.
The figures show the following gender pay gaps between men and women in various departments:
Department for Transport: 16.9%
Department for Exiting The EU: 15.26%
Department of Health: 14.2%
Ministry of Defence: 12.5% (for civil servants)
Department for Business, Energy and Industrial Strategy: 12%
Department for the Environment, Food and Rural Affairs: 11.5%
Foreign and Commonwealth Office: 10.6%
Home Office: 10.1%
Department for Culture, Media, Digital and Sport: 3%
The Department of Transport said its gender pay gap was mainly due to the "large numbers of female employees in administrative grades" among the 5,600 people employed at the DVLA, in Swansea, who do not get their salary topped up by London weighting.
But it has also traditionally been a "very male-dominated environment", officials said.
"There is a disproportionate representation of men due to the technical, engineering, construction and maritime skills required and lower proportions of female students in STEM (science, technology, engineering and maths) subjects leading into those careers," said permanent secretary Bernadette Kelly.
The Department for Exiting the EU, which is not far behind the Transport department when it comes to the disparity between male and female wages, has nearly twice as many men in the most senior roles.
If senior roles are taken out of the figures, the mean gender pay gap drops to -0.39%, "a negative percentage means that women are paid more than men," according to the department.
But, like the transport department it says it is taking steps to close the gap and believed there was already "equal treatment for work of equal or similar value".
A DExEU spokesperson said: "Ninety per cent of our staff are on loan from other government departments and devolved administrations, who operate their own pay scales and grading systems. These people have their base pay set by their home department, which we have no control over.
"As many staff come from departments with higher pay scales, this could have had an impact on skewing our data in terms of the mean being above the median."
The civil service, which employs 419,000 staff, compares favourably with the public sector as a whole, where women are paid on average 19.4% less than men and the private sector where the figure is 23.7%.
All government departments are now required to publish an annual gender pay audit under regulations introduced by Theresa May earlier this year applying to all public bodies with 250 or more employees.
Sir Jeremy, the cabinet secretary and head of the civil service, said he was committed to improving the gender balance at all grades within the civil service.
"I am pleased to say that the overall civil service gender pay gap is narrowing although it is still a matter of concern," he said.
But the FDA union, which represents senior civil servants, said that it was wrong that women were still being "discriminated against and undervalued".
"While the civil service should be applauded for shining a light on its gender pay gap with this latest data, departments have a long way to go if they are serious about closing it," said its equality officer Zohra Francis.