Brexit: Relief for Theresa May but a hard road ahead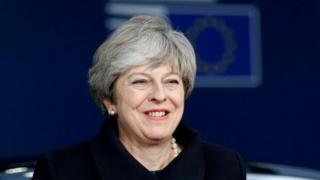 Phew. After the six months she has had, Theresa May might be entitled to breathe a sigh of relief, as the European Council officially declared that the first phase of our long goodbye from the European Union is over.
Stand back from the daily dramas and perhaps it was always bound to happen.
Both sides are committed to getting an agreement.
The EU and the UK both want a deal to be done, and while there has, inevitably, been grumpiness on both sides, they have, in the main, dealt with each other in good faith.
But the fragility of the government, and the complexities of some of the issues, have meant that, on some occasions, it has felt like the prime minister might not get there. Had she not been able to get this far, there genuinely could have been questions about her future.
The conventional wisdom is that the next phase will be more complicated, even more fraught.
There are some optimists in government who believe it doesn't have to be that way - because the UK and the EU are already partners, it's a question of unpicking an existing relationship, rather than putting one together from scratch.
But there are significant contradictions to iron out, contrasting motivations, conflicting views inside the Conservative Party as well as among the EU 27.
The experience of the past few months suggests, in fact, that the way ahead will be extremely fraught and the prime minister's goal of a full agreement by March 2019 is hopeful, rather than grounded in reality.
But for today, at least, Mrs May's team can be satisfied, if only for a moment or two, that they have managed even to come this far.