Alistair Burt says Donald Trump's Jerusalem plans 'unhelpful'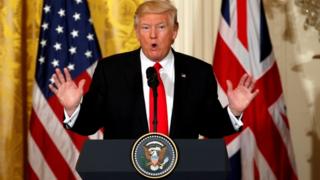 President Donald Trump's decision to recognise Jerusalem as Israel's capital is "unhelpful" for the prospects of peace in the Middle East, Foreign Office Minister Alistair Burt has said.
He told MPs the UK disagreed with the president and stressed it had "no plans" to move the British embassy in Israel from Tel Aviv.
Labour's Emily Thornberry said the move was "reckless" and had taken a "hammer blow" to the peace process.
"He is setting it back decades."
The Commons exchanges came a day after President Trump said he had "determined it is time to officially recognise Jerusalem as the capital of Israel", reversing decades of US policy on one of the thorniest issues between Israel and the Palestinians.
'Unbelievable cheek'
Raising the issue in an urgent question, shadow foreign secretary Ms Thornberry said the decision "took an absolute hammer blow" to hopes of a lasting peace in the Middle East.
"There's a reason that before yesterday no other country would locate their embassy in Jerusalem, and no other major country would recognise Jerusalem as Israel's capital, because to do either thing, let alone both at the same time, confers legitimacy on Israel's occupation of East Jerusalem - an occupation with no basis in international law," she said.
"The sheer recklessness of that decision needs no debate."
He "has the unbelievable cheek to claim that he's doing this to move forward the peace process, when in reality he's set it back decades," she said, and asked when the government would admit it has got its strategy for President Trump "totally wrong".
"They told us that holding his hand and hugging him close and indulging him with the offer of a state visit was the best way of wielding influence and shaping his polices," Ms Thornberry said.
On Jerusalem "as on so many other issues before, they have been made to look like fools", she said.
"When will they realise that bending over for a bully only encourages that behaviour?" she said, adding the country needed "a British government prepared to stand up to him".
Mr Burt agreed that "a difficult consensus has been broken".
"We disagree with the US decision to move its embassy to Jerusalem and recognise Jerusalem as the Israeli capital before a final status agreement," he said.
"We believe it's unhelpful in terms of prospects for peace in the region. The British embassy to Israel is based in Tel Aviv and we have no plans to move it."
He said Jerusalem should be determined in "a negotiated settlement" between Israelis and Palestinians and "Jerusalem should ultimately be the shared capital of the Israeli and Palestinian states".
"We regard East Jerusalem as part of the occupied Palestinian territories," Mr Burt added.