Momentum under investigation by Electoral Commission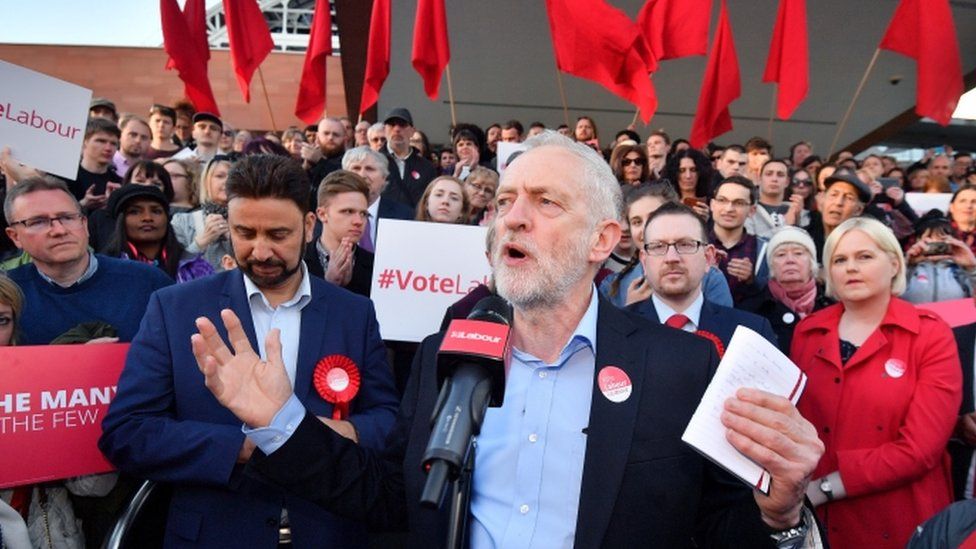 The Electoral Commission is investigating whether the Labour-supporting Momentum group broke finance rules during the 2017 general election.
The elections watchdog says its probe will consider if Momentum's returns included accurate donation information.
It said questions over compliance risked harming voter confidence.
Momentum said: "Much of the Electoral Commission investigation refers to a series of administrative errors that can be easily rectified."
It said it would fully comply with the investigation.
The grassroots movement was set up to support Jeremy Corbyn's successful 2015 leadership bid and now campaigns for Labour.
It was registered as a non-party campaigner during the snap 2017 general election in June.
Bob Posner, the Electoral Commission's director of political finance, regulation and legal counsel, said: "Momentum are a high profile active campaigning body.
"Questions over their compliance with the campaign finance rules at June's general election risks causing harm to voters' confidence in elections.
"There is significant public interest in us investigating Momentum to establish the facts in this matter and whether there have been any offences."
The Electoral Commission said the investigation would look at whether or not Momentum accurately recorded donations and payments relating to the 2017 campaign.
It would also consider whether a return failed to include all invoices and payments of more than £200.
Mr Posner said: "Once complete, the commission will decide whether any breaches have occurred and, if so, what further action may be appropriate, in line with its enforcement policy."
Under rules in place since 2000, non-party campaigners who wish to undertake "targeted spending" - intended to influence people to vote for one particular registered political party or any of its candidates - have to do so within prescribed limits.
The limits - £31,980 in England, £3,540 in Scotland, £2,400 in Wales and £1,080 in Northern Ireland - applied during the regulated period 9 June 2016 to 8 June 2017.
Registered non-party campaigners are only entitled to spend above these limits if they have the authorisation of the political party they are promoting, the commission said.
"It is an offence to spend above the statutory limits without the party's authorisation," it said. "Should the party provide authorisation for a higher spending limit, any spending by that non-party campaigner up to that limit would count towards the party's national spending."
Momentum said it "put a lot of effort and resources into detailed budgeting and financial procedures during the election to ensure full compliance".
"Our election campaign was delivered on a low budget because it tapped into the energy and enthusiasm of tens of thousands of volunteers across the country.
"We have a good working relationship with the Electoral Commission, and will fully comply with the investigation going forward."