Parents 'face tension at UK borders over surnames'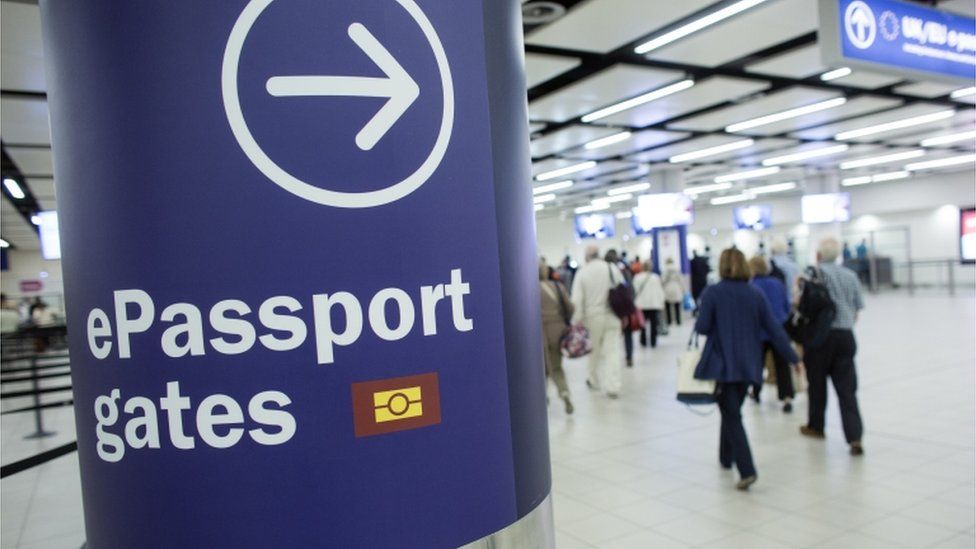 Parents who have a different surname to their children have felt "humiliated" at British ports by "over-zealous" border officials, MPs have heard.
Labour's Tulip Siddiq said she faced an "air of suspicion" after a holiday, as her daughter has her father's name.
She said if Brexit was to bring new passports, it would be a good time to "iron out" difficulties and include parents' names on children's passports.
The government said it would "actively consider" how to tackle the issue.
But Home Office minister Nick Hurd warned there were "formidable difficulties" with what was being proposed.
Ms Siddiq, MP for Hampstead and Kilburn, said a "growing number of parents in the UK" found holidays being "blighted by confrontations that are both unnecessary and entirely avoidable".
In a Commons debate on Friday, she described being stopped at the UK border before boarding Eurostar, after a trip to France, having been separated from her husband.
Pushing her 18-month-old daughter in a pram, she found herself being questioned about her identity.
"To my shock, the situation became quite tense. The official kept asking me for more and more documentation which I did not have and I explained over and over again that the child had my husband's last name, not my last name.
"My daughter was saying 'mama, mama' and crying because the unfortunate incident took so long, but even that didn't seem to convince the border official.
"My problem was that there was a real air of suspicion and I was made to feel like I was doing something wrong when I had just gone on holiday with my daughter and husband."
She said it was not only women travelling with their children but foster parents and "numerous LGBT couples" travelling with adopted children who had contacted her having been "questioned mercilessly" at borders.
She said she did not want to compromise the efforts of Border Force to tackle child trafficking, but "thousands of British parents" had been "unduly harassed and interrogated by officials at the UK border".
One constituent returned to Gatwick from a holiday with her eldest daughter from a previous marriage who had special needs. The girl was asked "is this your mother?".
She told Ms Siddiq it had been a "painful" experience "genuinely thinking that our re-entry to the UK depended on my daughter, who has minimal cognitive ability".
Another had been left "humiliated" at Stansted when border officials "refused to believe" her 12-year-old was her daughter.
"These stories are the tip of the iceberg," said Ms Siddiq. "Children's passports were introduced in the 1990s and list the child's name, and date and place of birth only. It is high time that they were updated to reflect the changing circumstances of British families."
She said both parents' names could be included on children's passports which would save "time, confusion and ultimately money at border control".
Children should be able to grow up knowing their identity was one of their choosing and "does not leave them treated by over-zealous border officials as criminals", she added.
Mr Hurd, a father of six, said he understood the challenge of travelling with small children and that the border system should not be doing anything to exacerbate parents' "stress".
He said it was "not in doubt" that many people felt a grievance about the issue, but there were occasions where children were taken across borders which "gave rise to safeguarding concerns", and "reasonable steps" were needed to avoid putting children at risk. Questioning by Border Force officials was done "with the best of motives".
Even if children's passports contained parents' names "it would not provide conclusive evidence to a border officer that the person accompanying the child had the right to do so or was acting in the best interest of the child".
But Mr Hurd said: "Having spoken to the immigration minister, I know that he does understand the present situation is causing difficulties, particularly in cases where children have different surnames to a parent.
"Therefore I am happy to give her the commitment on his behalf that he is going to actively consider how we can take this forward."