GQ editor Dylan Jones criticises cover star Jeremy Corbyn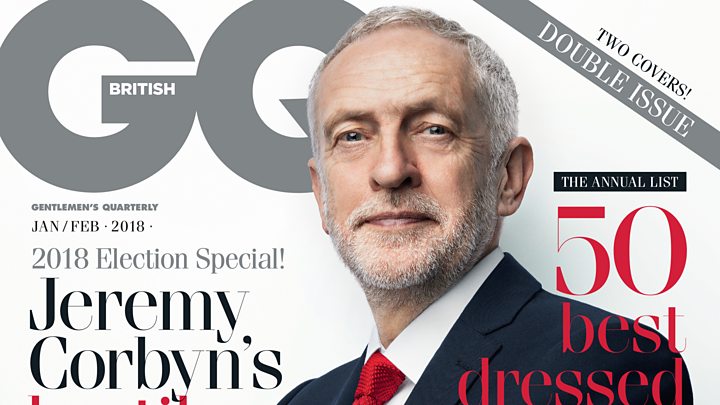 The editor of GQ has criticised Jeremy Corbyn - on the day the Labour leader appears on the magazine's cover.
Dylan Jones told the BBC Mr Corbyn's photo shoot was "as difficult as shooting any Hollywood celebrity".
Mr Jones claimed that despite the Labour leader's "rock star persona" he was "underwhelming" in person.
The editor faced a backlash on Twitter with Corbyn supporters and others accusing him of political bias and carrying out a "hatchet job".
Mr Jones has written in the past about his support for the Conservatives and authored "Cameron on Cameron" - a series of interviews with the former Tory leader before he became PM in 2010.
Mr Corbyn's former spokesman Matt Zarb-Cousin said Mr Jones had not been in the room for the interview and said the editor's politics were "well known".
"It's slightly puzzling that the editor of GQ would put Jeremy Corbyn on the cover of his magazine looking like a prime minister in waiting, only to go on the Today programme and say the complete opposite," he said.
Mr Corbyn joins David Cameron and Boris Johnson on the list of politicians to feature on the cover of men's "fashion and style" magazine GQ - in his case under the headline: "Jeremy Corbyn's hostile takeover".
'Family photograph'
According to Mr Jones the Labour leader was "adamant" he would wear a Marks and Spencer suit for the photo shoot.
In the interview with BBC Radio 4's Today programme, Mr Jones said: "The actual shoot itself was quite tortuous. It was as difficult as shooting any Hollywood celebrity.
"We've shot many politicians for our cover ... but never have we encountered such a ring. Obviously [Labour director of communications] Seumas Milne and his crew are very particular gate-keepers.
"They didn't really seem to understand the process at all, didn't understand (a) that he would have to be photographed in the first place (b) that he would need to be presentable or that he couldn't just turn up in his anorak.
"When he actually turned up for the shoot it was almost like he was being pushed around like a grandpa for the family Christmas photograph. He wasn't particularly aware of what was going on. But we're very pleased with what we ended up with."
He also said Mr Corbyn had turned down an interview with Tony Blair's former communications chief Alastair Campbell.
Mr Campbell, who is a regular writer for the magazine has criticised Mr Corbyn in the past - warning the party not to risk "driving itself off a cliff" by electing him leader in 2015. Last year he had a memorable clash on BBC Question Time with shadow chancellor John McDonnell over the future of the party.
Asked whether he had fallen out with Mr Corbyn's team, Mr Jones said: "We haven't fallen out with anyone, we are just describing the process of what we went through to get the cover, which I found very intriguing."
The interview, a short version of which appears on the GQ website, includes Mr Corbyn rejecting claims that he had avoided saying outright that he supported remaining in the EU in the 2016 referendum campaign.
He also said he would be happy to meet US President Donald Trump and would speak to Russian President Vladimir Putin, if he became prime minister.