Gove attacks 'distorting' social media after animal sentience row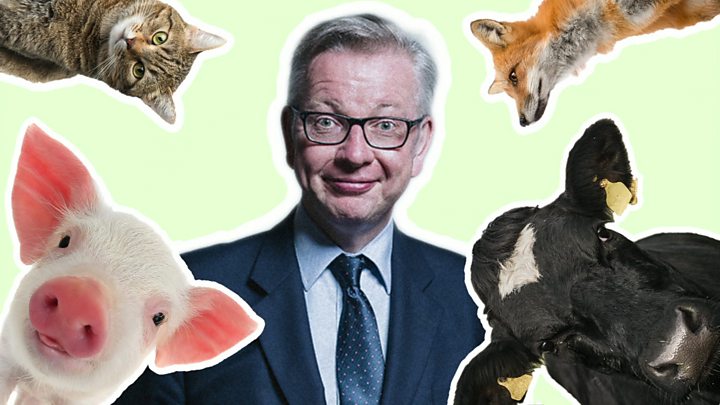 Michael Gove has hit out at the way social media "corrupts and distorts" political reporting and decision making following a row about animal welfare.
The environment secretary said attacks on MPs over a vote on EU laws on animal "sentience" were "absolutely wrong".
The Commons vote sparked protests and social media campaign backed by high-profile figures such as Ben Fogle.
The explorer has apologised for posting "misleading threads" but defended sharing details on "important stories".
Last week MPs voted not to incorporate part of an EU treaty recognising that animals could feel emotion and pain into the EU Withdrawal Bill.
Green Party co-leader Caroline Lucas had tabled the amendment to the EU bill, which would have transferred the EU protocol on animal sentience - the ability to experience feelings - into domestic law.
But ministers argued that the recognition of animals' sentience already existed in UK law and MPs rejected the amendment.
'Raw and authentic'
Mr Gove told BBC Radio 4's Today programme: "On social media there was a suggestion that somehow the MPs had voted against the principle that animals are sentient beings, that did not happen, that is absolutely wrong."
"There is an unhappy tendency now for people to believe that the raw and authentic voice of what's shared on social media is more reliable than what is said in Hansard or on the BBC.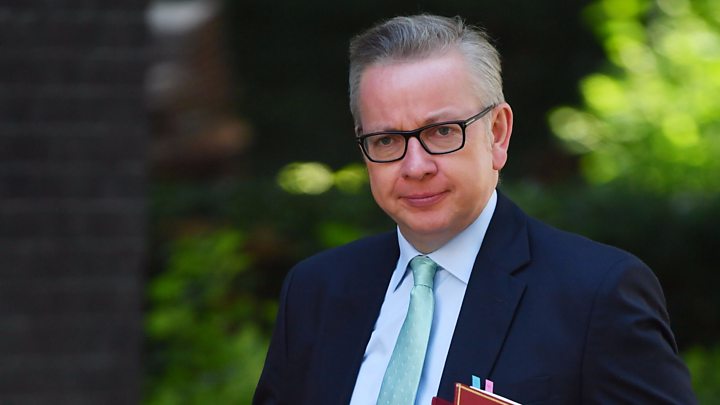 UK law 'to recognise animal feelings'
"More than that there is a particular concern somehow, a belief somehow that outside the European Union our democratic institutions can't do better than we did in the EU. We've got to challenge both those points."
He said Parliament was "an effective and vigorous institution which can ensure protection for human rights and animal rights".
"We've also got to stand up against the way in which social media corrupts and distorts both reporting and decision making... It's important that all of us do that and that some of us who shared some of these messages on social media have been generous enough to acknowledge ... that they may have unwittingly passed these messages on."
Among others who shared material posted by campaign groups which criticised MPs were the comedian Sue Perkins and Countdown host Rachel Riley.
Mr Fogle said he accepted the government's arguments but insisted it was not only up to social media users to spread inaccurate reports, pointing out that a number of established newspapers published stories based on the same information.
Mr Gove said there would not be a "gap" in animal welfare provisions as a result of the vote, once the UK left the EU, because the UK would "ensure we have stronger protection written into law". He argued that the EU legislation was "poorly designed" and said there was "no way in which animal protection can be diminished in any way, in any shape, or in any form".
But Ms Lucas said the government had been "backpedalling" since the vote: "What I was told in the chamber was that they had no need to take any account of my amendment because this principle of animal sentience was already recognised in UK law in the Animal Welfare Act of 2006.
"Now that is patently untrue, wrong and I am very glad in the last 24 hours Michael Gove and others have been rapidly backpedalling and admitting that that's not true."
And David Cameron's ex-director of communications suggested Mr Gove reflect on the impact of social media during the EU referendum - in which he was a passionate Leave campaigner.
British Veterinary Association senior vice president Gudrun Ravetz told the BBC that there was a "significant difference" between the Article 13 EU protocol, which put a duty on the state to pay full regard to animal welfare when formulating and implementing policies, and the UK legislation, the 2006 Animal Welfare Act, which put the duty on the owner.
The first was "explicit" about "animal sentience", the latter was only "implicit about sentience of animals and vertebrates".
"That is a very important principle, we have the duty of animal welfare for the owner and keeper under the Animal Welfare Act, and that will continue but what we want to see is that duty to the state," she added.
Mr Gove was a relatively late convert to social media, only joining Twitter in June 2016 after he was sacked as a minister by Theresa May.
But he has continued to tweet since rejoining the cabinet this summer.
Hansard is the name given to the daily verbatim transcripts of parliamentary debates in Westminster, which have been officially printed since 1909 and are available online too.