Budget 2017: Corbyn says government not fit for office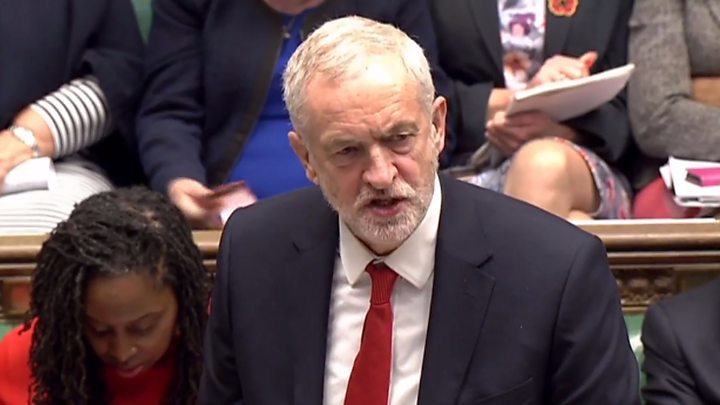 Chancellor Philip Hammond's Budget will "unravel" within days, continuing the "misery" for people across the country, Jeremy Corbyn has predicted.
The Labour leader attacked the government's failure to reduce the deficit, a rise in rough sleeping and the fact 120,000 people will spend Christmas in temporary accommodation.
"It's a record of failure with a forecast of more to come," he said.
Mr Hammond ended stamp duty for first-time buyers on sales up to £300,000.
In his second Budget, the chancellor also announced measures to speed up the payment of universal credit benefits and a rise in the National Living Wage to £7.83 an hour.
But, responding in the Commons, the Labour leader said: "The reality test of this Budget has to be how it affects ordinary people's lives.
"I believe as the days go ahead and this Budget unravels, the reality will be a lot of people will be no better off - and the misery many are in will be continuing."
'Uncaring attitude'
Mr Corbyn claimed a plan for three new pilot schemes to help rough sleepers "doesn't cut it", stressing: "It is a disaster for those people sleeping on our streets, forced to beg for the money for a night shelter.
"They're looking for action now from government to give them a roof over their heads."
He said one in six pensioners were living in poverty - "the worst rate anywhere in western Europe" - adding that the poorest tenth of households would lose 10% of their income by 2022, while the richest would lose just 1%.
And he responded angrily to an MP who heckled him as he was noting that more than a million elderly people were not receiving the care they need.
"I hope you understand what it's like to wait for social care, stuck in a hospital bed, while other people have to give up their work to care for them," he said, adding: "The uncaring, uncouth attitude of certain members opposite needs to be called out."
The Labour leader called for universal credit to be put "on hold" so it can be fixed to "keep one million of our children out of poverty". He also questioned why the chancellor thought it was "OK to under pay, over stress and under appreciate all those that work within our NHS".
"We were promised with lots of hype a revolutionary Budget - the reality is, nothing has changed," he said.
"People were looking for help from this Budget and they have been let down by a government that, like the economy they have presided over, is weak and unstable and in need of urgent change.
"They call this a Budget fit for the future - the reality is, this is a government no longer fit for office."