Brexit and the Irish border: Is all as it outwardly appears?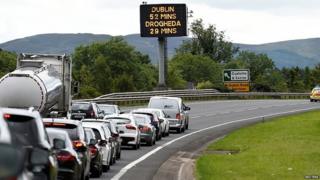 Sometimes in politics people see conspiracies where none exist.
But when it comes to tough political negotiations, both sides may from time to time indulge in a little bit of conspiracy theory which, becomes on occasion, perhaps a bit of paranoia here and there which could reveal some of your opponents' tactics.
There may be nothing in it, but just in case, well, you've thought through what might be the true extent of your rivals' plotting.
And as you know every now and then it is worth exploring one or two of those conspiracy theories that circulate in SW1.
So, bear with me. While there are genuine and sincerely held logistical and understandable concerns about what happens to the Irish border after Brexit, there is a sense building that perhaps the Irish government is playing those concerns rather harder than is justified.
The DUP leader, Arlene Foster, using rather strong language, told off the Irish leader Leo Varadkar for doing just that today.
But the next step in what many would say is a conspiracy theory, borne out of Brexiteer desperation, is to ponder whether the EU as a whole is over-egging their true level of worry about what happens to the border.
The issue has in fact, so the theory goes, become the perfect "anti-UK" issue that can be waved around in the talks every now and then.
Of course not a single soul involved would want Northern Ireland to go back to the era when there was a hard border for very different reasons than those that are pondered today. So again, so the theory goes, it is politically awkward to shout down those who are outlining concerns.
But according to these arguments, the border issue could be exploited by the EU side so they can later drop their concerns as a public concession to the UK, in return for a genuine concession from the British side.
There are whispers too that the previous government in Ireland had been discussing some potential solutions to the problem but after the change in political circumstances those conversations came to an end.
Wonder why?
No one on any side of the talks at the moment would concede or publicly acknowledge any of the kinds of tactics outlined above.
An excellent and very different account of how pressure has been building on this issue has been written by one of my counterparts, the excellent Tony Connolly at RTE.
But in any negotiation both sides are looking for leverage. And in something as tense as this deal-making process, both sides' positions are not exactly as they outwardly appear.