Brexit: David Davis says the EU must compromise too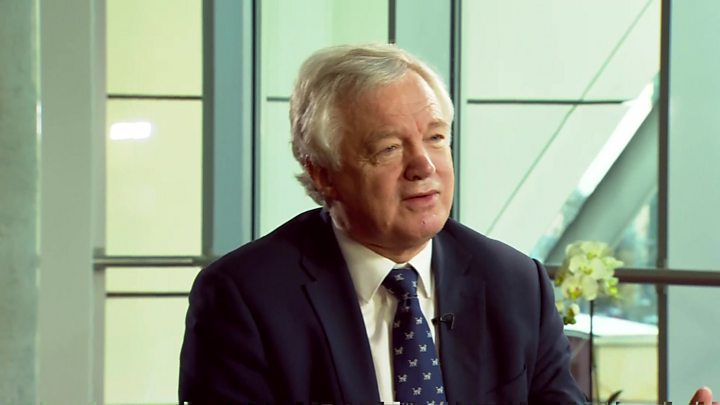 David Davis has said the EU must be willing to give ground too if further progress in Brexit talks is to be made.
He told the BBC the UK has "been offering some creative compromises and not always got them back", insisting that "nothing comes for nothing".
Many EU countries want to move on in the talks because they can see how important it is to their economies, he told political editor Laura Kuenssberg.
But he said this needed support from 27 nations, including Germany and France.
The EU says negotiations cannot move on to trade until questions about the UK "divorce bill", citizens' rights and Northern Ireland are resolved.
Theresa May is set to discuss Brexit with EU Council president Donald Tusk later on the margins of a jobs summit in Sweden amid growing pressure for a breakthrough before the end of the year.
Downing Street has insisted an earlier meeting with Irish prime minister Leo Varadkar had been "constructive" despite the two countries appearing to be no closer to bridging the differences between them.
Dublin wants binding guarantees there will be no return to a hard border with Northern Ireland after the UK's exit and Mr Varadkar has indicated he is prepared to "wait for further concessions".
Arriving for the event in Gothenburg, he said the UK's verbal assurances that there would be no physical infrastructure at the border were not sufficient.
"I think it would be in all of our interests that we proceed to phase two in December," he said. "But...sometimes it doesn't seem like they've thought all of this through."
UK Brexit secretary David Davis said he had already made concessions in areas such as the right of EU citizens to vote in local elections in the UK among other things.
In a speech in Berlin on Thursday, he warned against "putting politics above prosperity" in Britain's post-Brexit relationship with the EU.
BBC political editor Laura Kuenssberg said Mr Davis's speech was delivered politely but implied "pretty significant frustrations on the UK side with the EU's attitude".
The Brexit Secretary, she added, had not offered anything specific - including on what the EU regards as the vital issue of money - in his speech to "move things on".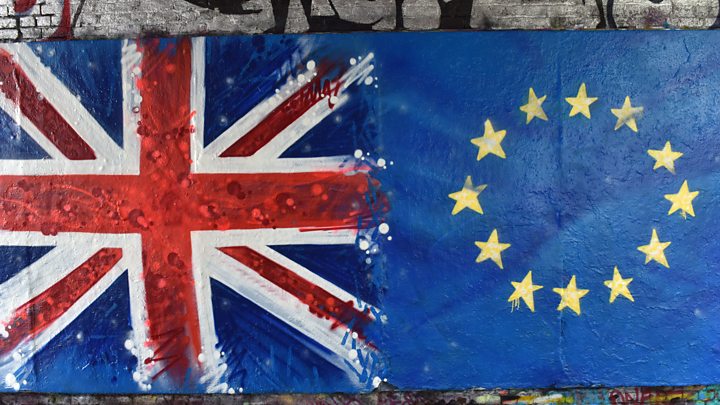 Asked about reports Germany and France were standing in the way of the next phase of talks, Mr Davis said they clearly had the most influence but it was a decision for all 27 and "many of them do want to move on".
"It is very important to them, countries like Denmark, countries Holland, like Italy and Spain, countries like Poland can see there are big benefits in the future deal we are talking about."
Brexit date
He suggested there needed to be more give-and-take from the other side. "I want them to compromise, surprise surprise, nothing comes for nothing in this world," he said. "But so far, in this negotiation, we have made a lot of compromises. On the citizens' rights front, we have made all the running."
As he met his British counterpart Boris Johnson in Dublin, Irish foreign minister Simon Coveney said the two sides were "not in place right now" to begin talking about future relations.
Mr Coveney has floated the idea of a post-Brexit transition period of four or five years to allow both sides to adjust to the changes required.
This would be twice as long as that envisaged by the UK government - which wants an implementation phase of around two years.
Mr Johnson said while he understood the need to give maximum reassurance to businesses, he thought "it was possible to do this within a much shorter timescale", adding that "we want to get on as fast as possible with the meat of the negotiations".
After a week dominated by talk of a potential Tory rebellion against attempts to fix the precise time of Brexit in the EU Withdrawal Bill, Mr Davis has suggested he will listen to concerns before it is voted on next month.
Up to 20 Tory MPs are reported to be opposed to the move as they fear it could tie the hands of British negotiators if talks drag on to the last minute.
Mr Davis told the BBC that setting the exact moment of Brexit - 23.00 GMT on 29th March 2019 - in law was a "good idea" but he would not pre-empt what "form" this would take.
"The whole of this bill is going to be debated through the House," he said. "And there are parts which will change as we go through, undoubtedly. We'll debate it, we'll see where we go."
But No 10 suggested it would not back down, urging all MPs to support a move which it said would "provide certainty over our position that we are leaving the EU".