Tories struggle to agree a way ahead on housing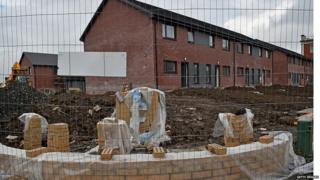 "We are the builders".
It feels a very long time since George Osborne made that claim for the Conservative Party and the record of the government since then has not really borne that out.
But right now, in some parts of the Tories there is a definite sense that unless they come up with an effective offer - politicians' term, not mine - on housing, they are on course to lose the next election.
There is tangible pressure then, not just on the Communities Secretary, Sajid Javid, but more to the point, the chancellor.
Next week the political expectation is that Philip Hammond's Budget will provide at least part of the answer to that political quandary.
Later today, there will be a tentative step in that direction, with Prime Minister Theresa May and Mr Javid donning hard hats to try to show they care, and announcing that housing associations' financial status will change.
But beyond what is announced this week there is, insiders suggest, a wider three-way fight going on over the best way to proceed.
The Department for Communities and Local Government, which Mr Javid heads, is said to be pushing not just for more money to build new houses, but also for more loosening up of the planning rules and more power to get building going on publicly-owned land.
The chancellor, sources suggest, is more focused on marginal changes to the market, as a traditional Conservative, to make the conditions more conducive for business to get building, rather than any bold intervention.
But inside No 10, it is not just the prime minister who is all too aware of the political pressure on housing, but her chief of staff Gavin Barwell- a former housing minister - who I'm told is "beating up on Hammond" to go further than he is willing so far to move.
Right now in the immediate run-up to the announcement no minister or government official would acknowledge on the record exactly what's going on.
But these pre-Budget announcements, while important, are far from the end of the story.
There is a live argument, that relates to the kind of government Theresa May really wants to run - intervene in markets significantly with all the opportunity and the risk that presents, or tweak round the edges and hope to influence the wider economy's instincts.
In housing, as in much of her decision making, it just isn't clear which direction Theresa May really wants to go.