Who will blink first?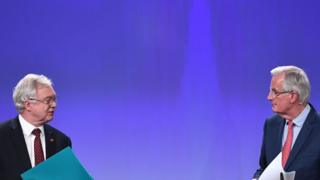 Forget about the daily agonies over the Brexit Bill in Parliament - for the government's plans to stay remotely on track, it's the other bill they really need to worry about.
The government hopes desperately to be able to move on to the next phase of the EU talks at the leaders' next shindig in mid-December.
But all the signals are that the UK is going to have to promise to cough up more cash in order for them to agree.
As we've discussed many times on here, there are good reasons why the UK doesn't want to promise any more money yet. The British side has always wanted to keep the option of writing a big cheque at the last minute on the table.
And ministers certainly don't want to pay a penny more of taxpayers' money than we need to in order to get a decent deal with the rest of the continent.
Not least because voters were told that we'd get money back (which of course could happen in the medium to longer term) and plenty of prominent Tories, including the foreign secretary, have said on the record that our payments should be limited if we should have to pay anything at all.
The prime minister herself used to say that the days of paying in large amounts were over. But she has already implicitly promised around £18bn to be paid.
'Eyes on the prize'
But there is an expectation across Whitehall that the government is simply going to have to go a lot further than that. European politicians in their droves have said as much.
And in private plenty of ministers are quite open about that too. In recent weeks there has certainly been a softening in the attitude towards paying up in the Tory party. Two different Brexiteer cabinet ministers have told me they would accept as much as £50bn, with one saying "it's all about keeping our eyes on the prize".
And in the Treasury, the view is certainly that it would be worth it to minimise disruption. Ministers are not yet ready though to say as much publicly or indeed to make those commitments in the talks.
And if they don't? Well, the chances of progress at the crunch summit in December are very slim. One source familiar with the discussions said "the UK political move has to come or we just won't get there".
But are they ready to do so? It's in Berlin, which the UK government believes is being the most hardline about the bill, where David Davis, the Brexit secretary, will speak tonight.
Together with France, sources suggest they are taking a very firm stance on how much Britain ought to pay and crucially when we have to make that commitment.
An ally of Angela Merkel's, Manfred Weber, met the prime minister yesterday and suggested that progress could be in sight. But there is a long way to go before any kinds of numbers could actually be agreed.
Public unity
The technical talks that have been trying to reach a common understanding of how the bill should be calculated have got stuck. And while in Westminster the attitude to paying up as softened, in contrast, across the Channel, and particularly in Germany, I'm told the attitude has hardened significantly.
As we've reported before, there are plenty of guesses about the eventual total being somewhere between £40 and £60bn. But it's impossible to say how much yet, because there is no specification on how the actual amount will be agreed.
So for example, even if the UK is ready to agree it will pay its share for infrastructure projects that have already been agreed, what happens in theory if a project goes over budget, what happens if it takes longer than agreed, and would the UK be expected to contribute towards new projects that are agreed during the transition period (the likely two years once we have left the EU but are still operating within its rules to give business time to adapt)?
This might be "boffin stuff", as described, but it could make a huge difference to the eventual cost. And Germany, yet to form a new governing coalition, is I'm told not in the mood to budge.
And while there is some frustration at their approach inside the EU27, no other country will right now stick their neck out and criticise Angela Merkel, and the public unity of the continental bloc has been consistent and strong.
But will David Davis tonight signal a softening of the UK approach on the cash? I'm not so sure. He, alongside his colleagues, is desperate to start talking more about the future trading relationship.
But there is a risk that unless they're willing to talk money first, that conversation might simply never happen.