Why officials in Labour government pushed 'dash for diesel'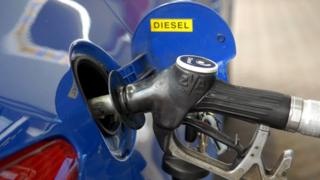 As Chancellor Philip Hammond considers tougher budget measures on diesel cars, documents obtained by the BBC reveal how the "dash for diesel" was encouraged by presentational considerations.
The shift to promoting diesel vehicles under the last Labour government can be seen as a textbook example of the law of unintended consequences.
In 2001, the then Chancellor Gordon Brown introduced a new system of car tax aimed at protecting the environment. In actual reality it fostered a popular move towards highly polluting diesel cars - a trend which according to some experts has been associated with thousands of premature deaths a year.
New light is shed on how this happened by records received by the BBC, after a two-year freedom of information battle with the Treasury. Some of these papers show that civil servants objected to a stronger policy to deter diesel usage on presentational grounds, because they did not want the government to be seen as "penalising" diesel drivers.
'Overly harsh'
Mr Brown brought in a sliding scale for car tax or vehicle excise duty (VED), to make it cheaper for cars with lower emissions of carbon dioxide (CO2), a greenhouse gas which contributes to global warming. This resulted in lower VED rates generally for diesel cars, which tend to be more fuel efficient. But they emitted greater quantities of other pollutants harmful to health, nitrogen oxides and particulates.
The records confirm that ministers and civil servants in the Labour government were well aware that diesel pollution damages air quality (even if perhaps they did not appreciate the full extent). But officials preparing the 2000 Budget argued against higher tax for diesel cars "so we are not seen as being overly harsh on diesel users".
Advice from the Treasury's tax policy section presented to ministers stated: "Relative to petrol, diesel has lower emissions of CO2 but higher emissions of the particulates and pollutants which damage local air quality. A diesel supplement is necessary so that we do not create incentives for people to choose diesel vehicles over similar petrol models in order to attract a lower VED rate."
But their concern was how this supplement would be perceived: "Presentationally, this should be seen as ensuring fair treatment of petrol and diesel, rather than as a penalty on diesel users."
The officials therefore rejected imposing larger supplements on diesel cars which would have a greater deterrent effect, concluding "we would prefer the smaller £10 supplement, so we are not seen to be 'penalising' diesel vehicles."
'Dash for diesel'
They added that this could be re-visited if another budget decision on fuel duty "opens us up to criticism of doing too little on local air quality".
In the documents released to the BBC this presentational factor was the only argument given against a higher supplement for diesels. This was advice from officials which may not have represented the motives of ministers. The Labour government's policy followed a consultation exercise on vehicle duty and environmental concerns.
The resulting financial incentive for diesel cars helped to prompt a "dash for diesel" after it came into effect in 2001 and was extended in further years. This particularly happened within company car fleets which were responsible for a substantial proportion of new car purchases.
There are now 12 million diesel cars on Britain's roads, while back in 2000 there were only three million. And in recent years diesels have accounted for around half the new car market, whereas in 2000 only one in seven new cars was a diesel model.
Millions of Britons switched to drive very polluting vehicles, while being told it was less damaging to the environment. Emissions of nitrogen oxides and particulates have been linked to respiratory difficulties, heart attacks and lung cancer.
The health issues affecting diesel vehicles have since been recognised and the government has pledged to tackle them. According to reports ahead of the forthcoming budget, Mr Hammond is considering extra tax on the sale of diesel vehicles and an increase in diesel fuel duty.
I first applied for relevant documents from the Treasury in October 2015, under the freedom of information law and the regulations governing environmental information. Their response to the request has involved considerable delays.
'Toxic'
At one stage the Treasury argued that it would be against the public interest to release any information, as it would damage the policy development process and inhibit the quality of advice. It later changed its stance and said the application would be too expensive to answer. Eventually officials decided to respond partly to a narrower request.
Gordon Brown's office declined to comment. In his memoirs published this month there is no specific reference to the diesel issue, but Mr Brown states that "our policy on fuel taxation was heavily influenced by our desire to promote cleaner fuels and vehicles".
Paul Morozzo, clean air campaigner at Greenpeace, said: "It's now clear politicians have known diesel is toxic to people's health for decades. This government must not make the mistakes of the last. It must prioritise public health over the motoring lobby in next week's budget by getting tough on diesel."
The Treasury said that it can't comment on decisions taken under a previous government, or on budget speculation. It refused to comment on the reasons for the FOI delays.
PS: This issue remains politically sensitive today, as illustrated by the fact the Conservatives have now picked up on this disclosure.
The Environment Secretary Michael Gove said: "The dash for diesel was pursued under a Labour government, and these documents show they knew the damage this would do to our environment. This is yet another example of a Conservative government having to clean up Labour's mess.
"We are taking action and have put in place a £3bn plan to improve air quality and reduce harmful emissions as well as ending the sale of new diesel and petrol cars and vans by 2040."
You can follow Martin Rosenbaum on Twitter as @rosenbaum6