Why David Davis's Brexit vote announcement matters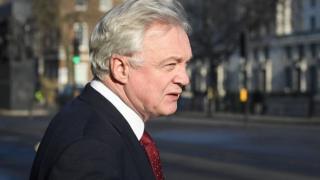 I know this doesn't sound that exciting unless you are as much of a nerd as I am. However, the Brexit secretary's announcement in the House of Commons in the last few minutes really matters.
It matters because the Brexit deal that shapes the future of the country will now be the subject of a specific new Act of Parliament that MPs and Lords will have to approve in early 2019, before we leave the EU.
It matters because Parliament will now be given specific votes, therefore, on the deal itself once the broad outlines have been agreed (Remember, the thrust of it is expected in about a year's time, although that feels hard to believe sometimes.)
It matters because the decision is a big concession to the Tory rebels and Labour MPs who were threatening to vote against the government, in part, because of ministers' refusal to promise a new set of laws.
And it matters because it demonstrates that the government was unlikely to be able to persuade enough of their own side to vote with them to keep the show on the road this week.
A confident government wouldn't have conceded like this the day before the Brexit debate was due to come back to the Commons in earnest.
This climbdown does not remotely mean that other grievances over the existing Brexit legislation will disappear.
It doesn't mean that the next few weeks will suddenly become plain sailing. And if there isn't a withdrawal deal with the rest of the EU, well, then there can't be a bill that covers the withdrawal bill.
It's only in the coming days that the government will know if they have done enough to get the existing plans through.
And the move also of course adds to a massive load of complicated Parliamentary business that has to be cleared before we actually leave.
P.S. The signs in the last few hours about David Davis' attempt at a concession have not been good.
Sources have told the BBC about a "stormy" meeting between the new Chief Whip Julian Smith and a group of Tory rebels this afternoon. In politics that's code for pretty grim and probably with shouting.
MPs have said the offer was "insulting", "disappointing" and warned the "government should be worried" .
But remember, this is going to be a long process of Parliamentary moves. The concession may have not moved much sentiment tonight, but both sides of the Tory Party know they are in this for the long haul, and the most troublesome votes are further down the track.