Gordon Brown predicts Brexit 'crisis point'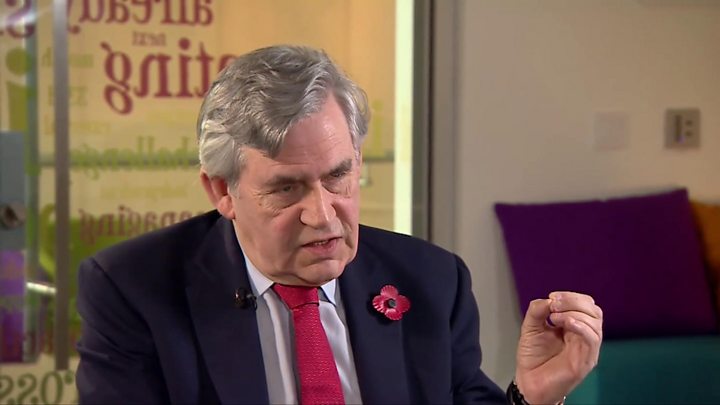 The UK could remain in the EU if Leave voters could be offered a "game-changing" deal next summer, Gordon Brown has told BBC News.
The former Labour prime minister told Laura Kuenssberg he was not arguing for a second EU referendum "at this stage".
But he predicted a "crisis point", when Leave voters realised they were not going to get what they were promised.
And they might be persuaded to change their mind if they were given "new evidence", he said.
The UK is due to leave the European Union at the end of March 2019, after 2016's referendum in which 51.9% of voters backed Brexit.
"Is there something that we didn't get right the last time that could persuade millions of Leave voters that it was worth going Remain?" Mr Brown, who campaigned to remain in the EU, said.
He predicted it would become clear by next summer that the UK was not going to get "proper control" of its borders, trade and laws, saying: "We will still be governed in many ways by the European Court of Justice."
And he said the UK would not get its money back in the way the Leave campaign had claimed, "including the £350m a week for the National Health Service".
"I would not try to tell people that they were wrong," he said, stressing people had voted Leave for "very real reasons" that had to be "respected".
But, he said, there "may be scope for a reassessment" next summer.
'Opposing extremes'
Brexit negotiations are continuing but EU sources told the BBC on Thursday that the UK had only two weeks left to make progress on so-called withdrawal issues such as the so-called "divorce bill" - the amount the UK will pay to settle its financial obligations. Other sticking points include the Northern Ireland border and citizens' rights.
If a deal is to be ratified by the various national and regional parliaments by March 2019 - EU negotiator Michel Barnier has suggested one will need to be agreed by October 2018.
Mr Brown was not specific about what a "game-changing" offer might entail, but he said the mood was changing in the EU, which would have to agree to any new offer.
"You'd have to be able to say something about migration, about the courts, about money - but I think that is the point at which the nation should be given new information about what is possible. So, I'm not advocating a referendum at this stage," he said.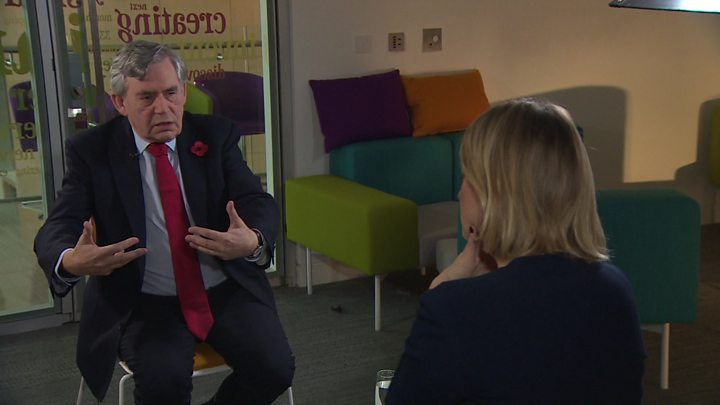 Mr Brown, who is promoting his new memoir, My Life, Our Times, also warned that Scotland could become the next Catalonia, with two "opposing extremes" pulling the nation apart.
He argued for a "middle way" between the SNP's demand for full independence and what he said was the Conservative Party's belief in maintaining the "status quo".
The answer, he said, was to move to a "federalist UK with maximum autonomy for Scotland".
Mr Brown also called for more action on tax havens and hit back at claims he had agitated for then Prime Minister Tony Blair's removal when he was chancellor, insisting that any disagreements they had had been about policies rather than personalities.
He added he believed political leaders had a "shelf life" of about six years and it was an "aberration" that he had been able to survive at the top for 13 years, including his time at the Treasury and Number 10.