Damian Green and Bob Quick quizzed by Cabinet Office inquiry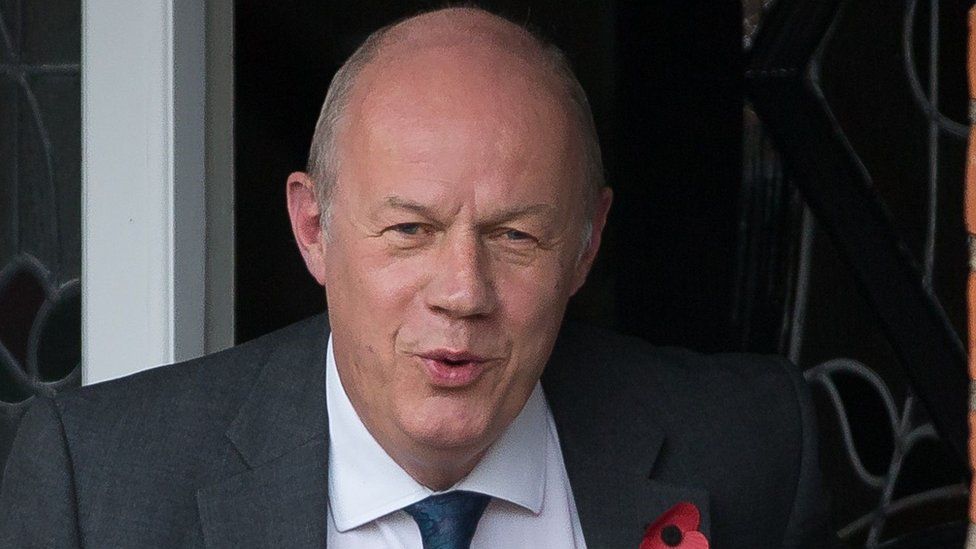 First Secretary of State Damian Green gave evidence to a Cabinet Office inquiry into his conduct earlier on Tuesday, the BBC understands.
The inquiry, which is being held behind closed doors, quizzed former senior police officer Bob Quick on Monday.
It is examining Mr Quick's claims pornography was found on a computer in Mr Green's Commons office during a police investigation in 2008-09.
Mr Green has denied the allegations saying they were a "political smear".
The inquiry is also looking at a separate claim that Mr Green, who is Theresa May's second-in-command, made inappropriate advances towards a female Conservative activist in 2015.
He also denies that allegation and has provided the inquiry with text messages between the pair as part of his evidence, BBC Home Affairs correspondent Danny Shaw said.
No timescale has been set for how long the inquiry will take but it's thought that it will be quite short, added our correspondent.
Mr Green was briefly arrested in 2008 during what was a controversial inquiry into Home Office leaks. His Commons office and home were also searched but no charges of any kind were brought.
Mr Green has said the police never told him at the time that any improper material had been found on a parliamentary computer, condemning the claims as "disreputable political smears" which "amount to little more than an unscrupulous character assassination".
He has suggested Mr Quick, who was forced to resign as the UK's top anti-terror officer in 2009 following a security blunder which compromised a potential operation, was a "discredited" figure but the former officer is standing by the claims.
Mr Quick, Scotland Yard's former assistant commissioner, told MPs in 2009 the leak inquiry had been "complicated by the existence of private material on the computer removed from Mr Green's parliamentary office".