Michael Fallon 'apologised for touching journalist's knee'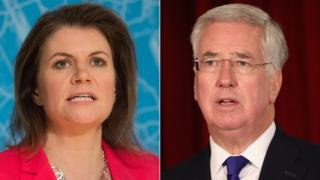 Defence Secretary Sir Michael Fallon was once rebuked by a journalist for putting his hand on her knee during dinner, his spokesman has confirmed.
Radio presenter Julia Hartley-Brewer had recounted the "mildly amusing" incident without naming Sir Michael.
After his identity was revealed in the Sun, she tweeted saying she had not been "remotely upset or distressed".
A spokesman for Sir Michael said he had apologised when it happened in 2002.
Ms Hartley-Brewer, a former political editor of the Sunday Express and regular political commentator, has criticised "wild rumours and claims" circulating at Westminster.
She said she did not consider herself a victim after the incident which happened over dinner at the Conservative Party conference.
After the minister kept putting his hand on her knee, she said: "I calmly and politely explained to him that, if he did it again, I would 'punch him in the face'.
"He withdrew his hand and that was the end of the matter."
A spokesman for Sir Michael said: "He had apologised when the incident happened 15 years ago and both Julia and he now considered the matter closed."
It comes amid allegations about sexual harassment at Westminster.
On Monday Commons Leader Andrea Leadsom said recent allegations against MPs "risked bringing all our offices into disrepute".
Commons Speaker John Bercow said there must be "zero tolerance" of sexual harassment in Parliament.
Conservative MP Tim Loughton compared the allegations to the MPs' expenses scandal, which he said had been "deeply damaging" to the "integrity" of the House of Commons and each MP.
He said it was "essential" for the response to the allegations to be "swift, robust and wholly transparent".
---
What are the existing procedures?
People who work for MPs are legally employed by them and are not covered by the established grievance procedure for other Parliamentary employees.
Employment disputes have traditionally been handled in-house by the MPs concerned with, in some cases, the input of political parties.
The Independent Parliamentary Standards Authority (IPSA), which pays MPs and their staff, offers guidance on grievance procedures to MPs when they draw up employment contracts but these are not binding.
The guidance states anyone with a complaint against an MP should initially make it to their line manager, even though this could be the MP themselves. It goes on to set out the best practice procedures to be followed.
MPs are bound by rules set out in a code of conduct drawn up in the mid-1990s. They are expected to act with "probity and integrity" and "in accordance with the public trust" placed in them.
Parliament's standards commissioner has the power to investigate claims that MPs have undermined the "reputation" of Parliament - but the rules do not cover sexual matters.
---
The government has promised urgent action to improve the handling of complaints about the way MPs' staff are treated.
Ms Leadsom said the existing system for handling grievances was inadequate and promised a cross-party approach to establishing a contractually binding complaints procedure for all those working in Parliament, including MPs, peers, staff and interns.
In a letter sent to Mr Bercow on Sunday, Prime Minister Theresa May said the current system for airing grievances was not fair on employees, many of whom were young and in their first job.
Labour has written to its MPs setting out rules for dealing with allegations of sexual abuse and harassment, while the SNP said it had begun an investigation into two unconnected allegations of inappropriate sexual behaviour.
Over the weekend, a Cabinet Office investigation was ordered into whether Conservative MP and international trade minister Mark Garnier breached ministerial rules after he admitted asking his secretary to buy sex toys and calling her "sugar tits".
And former Welsh Secretary Stephen Crabb was reported by the Sunday Telegraph to have admitted sending "explicit" messages to a 19-year-old woman after a job interview at Westminster in 2013.