UK foreign policy 'should put values above economics'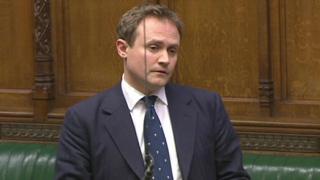 British values should be put above "raw economics" in foreign policy, the new chairman of the Commons foreign affairs committee has said.
Tory MP Tom Tugendhat said he was not opposed to selling arms to countries like Saudi Arabia but it must be done in "a rules-based system".
He said Britain's reputation as a fair place to do business underpinned the UK economy and must be defended abroad.
He added it would be "great" to be PM, foreign or defence secretary one day.
But he told the House Magazine his focus for the next few years was to chair the foreign affairs committee.
'Very blunt'
Mr Tugendhat, who has served in the Territorial Army in the Middle East, said: "The fundamental underpinning of our economy is the value that people place on Britain as a fair place to do business, on British law and values being fair, whether that be accountancy, whether that be legal service, whether that be finance.
"Therefore, we've got to be careful when we make foreign policy that we recognise that we've got to defend those values abroad above simple raw economics in a very blunt system."
But he said foreign policy should not be conducted in a way "that damages our ability to promote economic growth in the UK".
The interview, carried out earlier this week, was published the day after Defence Secretary Sir Michael Fallon suggested to MPs that criticism of Saudi Arabia in Parliament was "not helpful" as he attempted to secure a deal with the country for a second batch of Typhoon fighter jets.
Asked about arms sales to Saudi Arabia in light of the country's role in the conflict in Yemen, Mr Tugendhat said, "I certainly don't think it's wrong to sell arms.
"But we must be realistic as to what we're doing when we do sell arms. And part of that has to be within a context of, as I say, a rules-based system.
"Saudi Arabia has caused some issues for us in that, and other nations have too. But it's certainly not wrong to enable countries to defend themselves."
'Difficult to translate'
Of Boris Johnson's performance as foreign secretary, he said: "He's certainly got a lot of passion for the United Kingdom and has a way of expressing himself which certainly carries a lot of noise."
He added that "cross-cultural humour" was very hard to do as it was difficult to translate.
"I think there are ways of doing diplomacy. I've done it in Afghanistan, in Iraq and Saudi [Arabia] and across parts of Africa and most of the Middle East, and I just think that it's very, very hard to make humour work in international environments, which is why very few serious politicians try it."
Seen as a rising star of the Conservative Party, Mr Tugendhat was elected as chair of the Commons Foreign Affairs Committee, two years after becoming MP for Tonbrige and Malling.