Youth crime disclosure rules wholly inappropriate, say MPs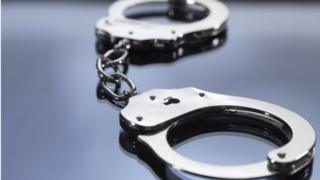 Rules on disclosing crimes committed in childhood in England and Wales should be "radically revised", say MPs.
The Commons Justice Committee said the system was "wholly inappropriate", denied children a "second chance" and may breach human rights laws.
People do not have to disclose "spent" past convictions and cautions after a period of time but sometimes employers can ask that they are disclosed.
The government has listed 942 crimes that are not exempt from disclosure.
The coalition government brought in changes in 2013 that allowed old convictions to be "filtered out" of record checks by the Disclosure and Barring Service (DBS) after 11 years for adults and five-and-a-half years for young offenders.
Sexting
In the case of cautions, they are "filtered" after six years for adults, or two for those under 18 at the time.
But there are 942 offences which cannot be filtered, ranging from sexual and violent crimes to offences such as failing to display a certificate of registration in a residential care home.
The justice committee's report said that that system operated "in a mechanical fashion, with no right of appeal against disclosure decisions". It pointed to offences such as "sexting".
While under recent changes sexting does not appear on a DBS certificate - unless it is at the discretion of police - others who committed an offence before new guidance came in were left in an "unresolved" position, the committee said.
The committee said: "We do not think that the difficult problem of sexual offending by children is assisted by giving them a record of a non-filterable sexual offence.
"We note the inconsistency between the current police response to 'sexting' by children, designed to prevent them from entering the criminal justice system, and the previous policy of taking formal action.
"While we commend this change in policing approach, we are concerned about the implications for children whose "sexting" offences pre-date the policy change, acquiring non-filterable criminal records as a result."
It suggests the current system may "fall short" of the UK's obligations under the UN Convention on the Rights of the Child.
It is illegal to possess, take or distribute sexual images of someone who is under 18, including of yourself - figures released in July showed thousands of children had been investigated by police for sexting in the last three years in England and Wales.
The committee recommends:
That a rule which means multiple childhood convictions can never be "filtered out" of DBS checks should be removed.
That the single database of 942 offences which cannot be filtered be replaced with customised lists of offences applying to different employment areas
That police chiefs should be given discretion to withhold disclosure, depending on age and circumstances of the offender
That people should be given the right to have an independent review of any police decision to disclose convictions or cautions
That the time allowed for convictions to become "spent" under the Rehabilitation of Offenders Act 1974 be reduced
Committee chairman Bob Neill said the government's main aim in youth justice was to stop people being drawn into crime "but these laudable aims are systematically undermined by the current disclosure regime".
"Mistakes made as a teenager can follow someone around for decades and create a barrier to rehabilitation, as well as profound problems with access to employment and education."
In 2014-15, the total number of standard DBS checks was 31,753 - 8,268 of which related to people who were under 18 years old at the time of their offence.
A spokesman for the Ministry of Justice said: "We have noted the committee's report and will publish our response in due course."
The government says it will consider the recommendations of two other reviews - by the Labour MP David Lammy and by child behavioural expert Charlie Taylor after the Supreme Court rules on cases challenging the current disclosure regime next year.