MP Bob Blackman defends Tapan Ghosh's appearance in Parliament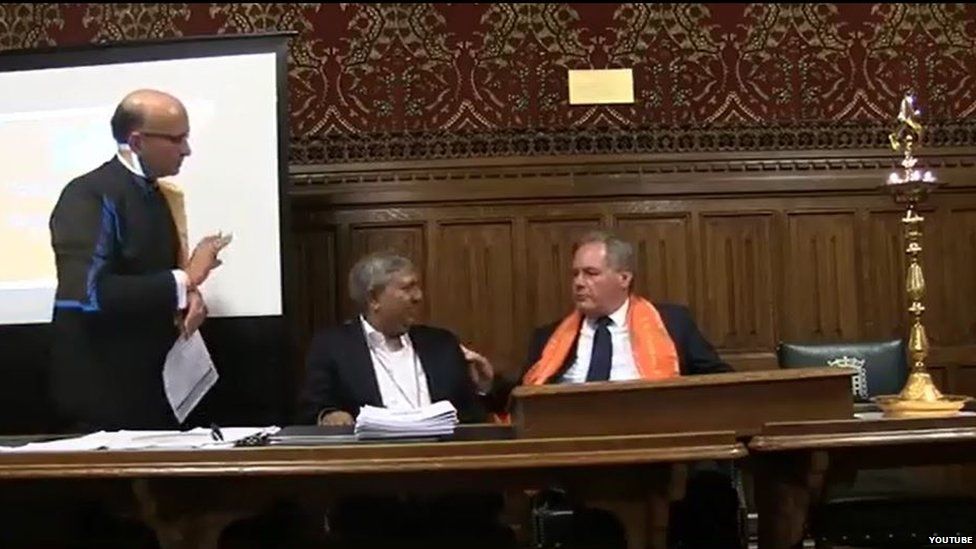 A Tory MP has defended his decision to host Parliamentary events attended by a controversial Hindu nationalist.
Tapan Ghosh's appearance at the events has sparked criticism, with a Labour MP attacking his "abhorrent views" about Muslims and pointing to his appearance with EDL founder Tommy Robinson.
Bob Blackman, who hosted the functions, told the BBC's Asian Network he had been unaware of Mr Ghosh's remarks.
Mr Ghosh told Asian Network he was not Islamophobic.
Mr Ghosh, the founder of Hindu Samhati, a nationalist group based in India, appeared at two Parliamentary functions last week that were hosted by Mr Blackman, who is chairman of the All Party Parliamentary Group for British Hindus.
Raising a point of order in House of Commons on Thursday, Labour MP Naz Shah said it was "incredible" that he had been invited to Parliament.
"Mr Ghosh holds abhorrent views, is on record for calling upon the United Nations to control the birth rate of Muslims, praising the genocide of Rohingya Muslims in Burma and also said Muslims should be forced to leave their religion if they come to a western country," she said.
"Only this Monday Mr Ghosh was pictured with UK far-right extremist leader Tommy Robinson.
"It seems incredible to me that any member would think it would be acceptable to host a meeting with this individual, let alone invite him to our House of Commons."
Responding in the Commons, Mr Blackman said he had hosted a Diwali celebration and the launch of a report into Hindu minority rights in Bangladesh and Pakistan, which Mr Ghosh attended.
He said it was only in order to present evidence to this meeting "that that individual was invited to this House" by the National Council of Hindu Temples.
Pressed later on Mr Ghosh's past comments, Mr Blackman told Asian Network: "I've had a chance now to study these various tweets and they're not ones I agree with.
"He did not make anti-Islamic remarks at the event. I can assure you had he voiced some of these comments I would've challenged him."
Mr Blackman said he did not regret sharing a platform with him, saying it was "relevant to what we were discussing".
When contacted by the BBC Mr Ghosh said he was not Islamophobic.
The Muslim Council of Britain said: "It is astounding that a Conservative MP seems to have welcomed to Parliament with open arms a man who trades in propagating hatred against Muslims in India."
Home Secretary Amber Rudd, who was at the Diwali event Mr Ghosh attended, said she "fundamentally disagrees with Mr Ghosh's views on Islam".
Mr Blackman said he was a "passionate believer of free" speech.
Asked whether he would share a platform with a hard-line Islamist or anti-Semite, he told Asian Network presenter Nomia Iqbal: "It's an individual choice. Extremism is never acceptable in any guise or form but the way you combat it is is to take it on directly."
He added: "I represent a community where everyone is a minority and the reality is we have to bring people together and that at times means having challenging discussions."
Mr Blackman said he was conscious of the fact his Harrow East constituency is made up of more than 10,000 Muslims, adding that he was working to promote a new Muslim school in the area.