MP's Brexit letter to universities 'was research for book'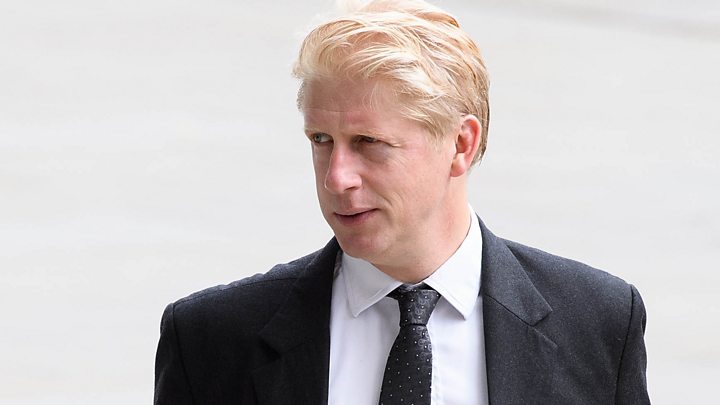 Tory MP Chris Heaton-Harris "should probably not have sent" a letter to universities asking for details of Brexit courses, a minister has said.
Universities minister Jo Johnson said his colleague, a government whip, was "regretting very much" his decision,
He said the MP was "pursuing inquiries of his own" which may lead to a book on "the evolution of attitudes" to Europe rather than acting for the government.
Universities enjoyed "24 carat academic freedom" in the UK, he insisted.
Lecturers reacted with anger to the letter, calling it a "sinister" attempt to censor them and accusing Mr Heaton-Harris of conducting a "McCarthyite" witch hunt.
Downing Street distanced itself from the letter by Mr Heaton-Harris, a member of the pro-Brexit European Research Group of Tory MP, after he wrote to universities asking for the names of professors teaching Brexit-related courses and details of their syllabuses.
Mr Heaton-Harris has not said himself what his intentions were, but said he believed in "open" debate about the UK's departure from the EU.
'Misinterpreted'
Speaking on BBC Radio 4's Today Mr Johnson, who said he had spoken to Mr Heaton-Harris, said: "Chris was acting in an individual capacity as an MP rather than as a government minister… Chris has a very longstanding interest in European affairs and the history of European thought.
"He was pursuing inquiries of his own which may, in time, lead to a book on these questions. It was more of an academic inquiry rather than an attempt to constrain the freedom that academics rightly have."
Asked if the letter should have been sent, he said Mr Heaton-Harris "probably didn't appreciate the degree to which this would be misinterpreted".
He said: "I am sure Chris is regretting this very much. The critical thing is that the government is absolutely committed to academic freedom and to freedom of speech in our universities.
"A letter which could have been misinterpreted should probably not have been sent."
Opposition parties have suggested that Mr Heaton-Harris was seeking to compile a list of "Brexit heretics" and called for him to be stripped of his role as a whip.
Former Conservative chairman Lord Patten, Chancellor of Oxford University, said the letter should be chucked in the bin, describing it as an act of "offensive and idiotic Leninism".
Mr Johnson suggested this was something of an "over-exaggeration" given the independence of universities was protected under the law and the government had extended the statutory duty to secure free speech earlier this year so that it will apply to all providers of higher education.
"There is 24 carat academic freedom in this country. We have entrenched it in statute, only as recently as April.
"Academic staff are free to test and challenge received wisdom and free to put forward new ideas and controversial or unpopular opinions. That is the law and we support it."
A number of Tory MPs have backed Mr Heaton-Harris, Philip Davies condemning what he said was the "false outrage" from academics and suggesting universities had been "rumbled".
He told the Daily Telegraph that universities were full of "left wing lecturers forcing their opinions on their students" and they should be "more balanced in their teaching"
And tweeting a picture of a flyer for a stop-Brexit rally, Paul Scully said: "This is what a lecturer was handing out to my daughter who spends £9k per annum for him to be teaching engineering, not politics."