Lord Mandelson: Labour election prospects 'very strong'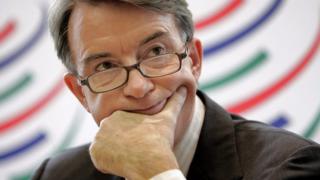 The Conservatives are handing Jeremy Corbyn "victory on a plate" at the next election, Lord Mandelson says.
Speaking on BBC Radio 4's Today programme, the former Labour cabinet minister acknowledged the prospects for the party at the next general election were now "very strong".
However he urged the Labour leader to reach out to "centrist" voters if he wanted to win a big overall majority.
Lord Mandelson has been a long-time critic of Jeremy Corbyn.
He said Mr Corbyn now faced a choice over whether to consolidate his "sectarian" support on the left or broaden his appeal.
Lord Mandelson said: "In the party, he can go for total ideological control of Labour, or he can opt instead for unity right across Labour's broad spectrum.
"In the country, he can either consolidate his sectarian support on the left and amongst the young voters, or he can additionally embrace more centrist and older voters.
"This is what will make the difference between a slender victory for the Labour Party or a substantial working majority."
Lord Mandelson has previously said Labour "cannot be elected with Corbyn as leader".
He strongly denied that he was now a "Corbynista," telling Today he remained "New Labour to the core".
'National humiliation'
The former EU trade commissioner also backed Labour's position on Brexit and warned leaving the European Union without a trade deal would be an "economic disaster" and "a national humiliation" for Britain.
He called for Parliament to have a "proper final say" on the EU deal and said he would back an amendment in the House of Lords requiring any final deal with the EU to be approved by Act of Parliament.
"As the evidence mounts, I think we should rethink our approach to leaving the European Union and how we implement the referendum decision. If the public chooses to take a different view we should listen to them," he said.